Hamilton the Rangers' big question mark
SURPRISE, Ariz. -- The biggest mystery in Rangers camp may be Josh Hamilton, but he doesn't see it that way.
Hamilton, who reported to camp on Thursday, said he expects to be on the Rangers' Opening Day roster.
"Sure," Hamilton said. "If I'm healthy, I know I'll get out there and perform."
•Spring: Info | Tickets | Schedule | Gear
The Rangers are taking a more cautious approach.
"We've got to get Josh out on the field, see where he is at and how he is playing," manager Jeff Banister said.
Hamilton was supposed to try and play first base, but then the Rangers signed Mike Napoli. Designated hitter is also a possibility, but that may be where Shin-Soo Choo gets the majority of his at-bats. Hamilton may play the outfield occasionally this spring, but given his injury history, that may make people cringe.
"It's one of those things, the biggest asset they are looking for is having my bat," Hamilton said. "Whether that's outfield, first base or DH, I don't know if I have an answer to that. They don't.
"I am getting older but at the same time I can still do the things I used to do and I've seen glimpses. It's about getting there on a more consistent basis. Overall health is great. Most important thing is mental health and peace is good."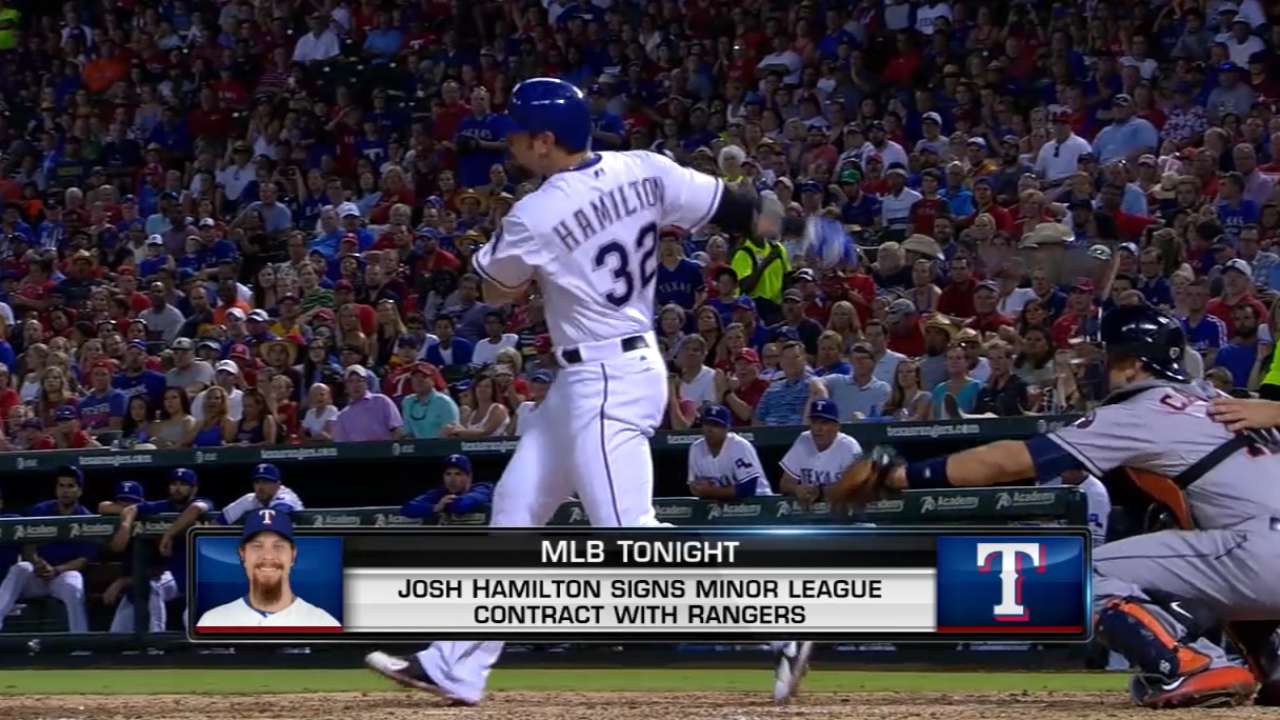 Health is the big issue. Hamilton missed all of last season after undergoing three operations on his left knee over a 10-month period. The first two were arthroscopic and the third was major reconstruction surgery last June that left his future in doubt.
Even Hamilton, a five-time All-Star and 2010 American League Most Valuable Player for the Rangers, wondered if he was done.
"There were thoughts in my head, 'Do I have anything left in the tank?" Hamilton said. "Am I ready for the mental grind? I've had a lot of injuries and missed a lot of time. Then I had a kind of come-to-Jesus meeting, prayed a lot and thought about it.
"Then one day, it hit my head and hit my heart, I've got a lot left in the tank. I want to give it a try."
The Rangers released Hamilton last August and then re-signed him to a Minor League contract in January after he was medically cleared to play. He is in the final season of his five-year, $125 million contract signed with the Angels as a free agent before the 2013 season. But the Angels are still paying almost all of his last salary under the terms of their 2015 trade with the Rangers.
Texas doesn't have much of a financial stake in this. It comes down to if it feels there is anything left in Hamilton. He has no doubts.
"I have a lot left," Hamilton said. "A whole lot. I've got a good feeling."
T.R. Sullivan has covered the Rangers since 1989, and for MLB.com since 2006. Follow him on Twitter @Sullivan_Ranger and listen to his podcast. This story was not subject to the approval of Major League Baseball or its clubs.