Banister continues to stress improving defense
Club has committed six errors over past two games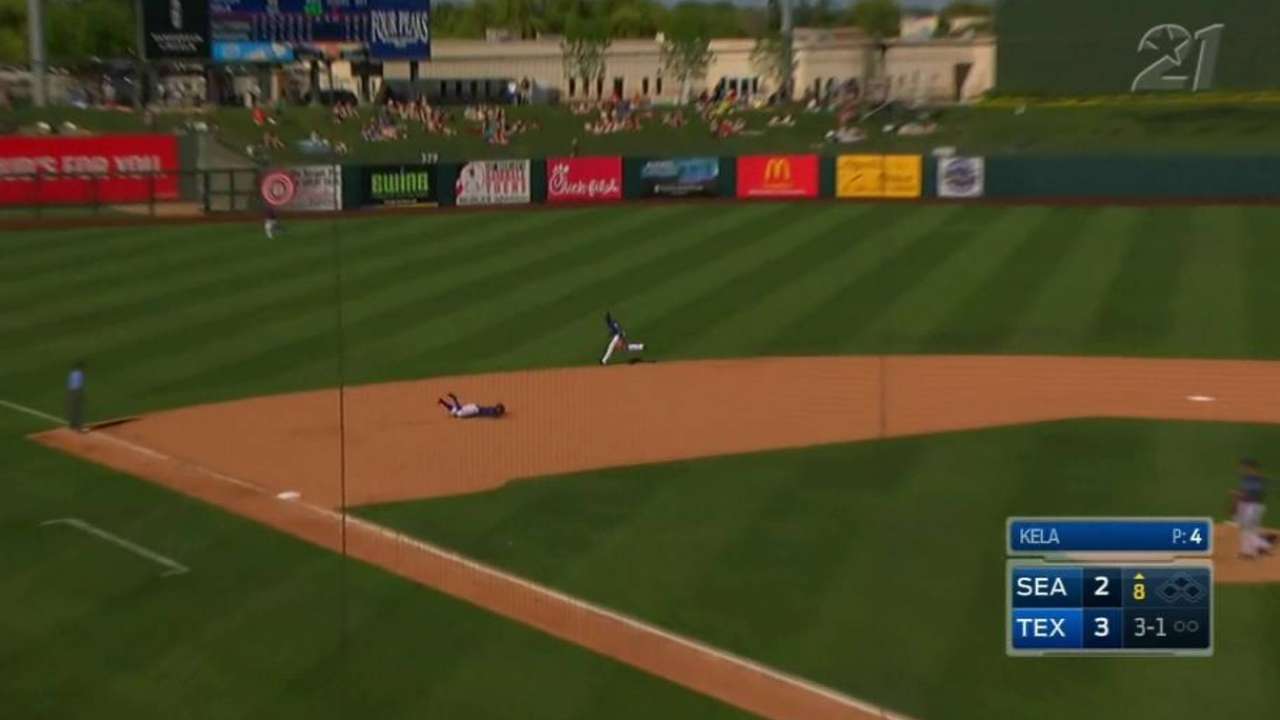 SURPRISE, Ariz. -- The Rangers committed five errors in Saturday's game against the Reds, and manager Jeff Banister wasn't happy about it the next day.
"There were a couple of situations where the urgency and intensity level weren't where they should be," Banister said.
The five errors were committed by third baseman Joey Gallo, pitcher Wesley Wright, catcher Brett Hayes, shortstop Jason Martinson and second baseman Andy Ibanez. There is a distinct possibility that all five will not be on the Opening Day roster, but that doesn't matter to Banister.
"We need to be a premium defensive team," Banister said.
It also doesn't matter to Banister that three key defensive players -- catcher Jonathan Lucroy, second baseman Rougned Odor and third baseman Adrian Beltre -- have been away at the World Baseball Classic or that Elvis Andrus has only played in five games.
Banister wants his spring sermon about playing premium defense to resonate to the entire organization. It has been his top priority this spring.
The Rangers entered Sunday's 3-2 win over the Mariners having committed 25 errors this spring, tied for the sixth most in the Majors. But they led to 20 unearned runs, tied for the second most.
It happened again on Sunday's first play. Shortstop Doug Bernier, who is considered a plus defensive player, bobbled a grounder by Guillermo Heredia, and the Mariners scored two unearned runs in the first inning.
Last year, the Rangers committed 97 errors, tied for the second most in the American League. They also allowed 57 unearned runs, fourth most in the AL.
That's why becoming a better defensive team has been the Rangers' top priority this spring.
"We've probably spent more time on defense than anybody," Banister said. "You are not going to eliminate errors. Nobody is ever going to do that. But it's not the initial run you let in, but also the number of pitches and extra outs that are added to the pitching staff and the stress that creates. That became problematic for us last year."
One area of concern was the outfield. Rangers outfielders committed 23 errors last year, the second most in the American League. Banister said too many of those were throwing errors by an outfielder aggressively trying to throw out baserunners.
The Rangers need to be more selective on when to go for the out, or settle for a safe throw to second to keep the double play in order.
"We've got to have the mindset that we have a really good pitching staff," Banister said. "We need the mindset of keeping second base in order, and not run ourselves into the big inning with a bad throw from the outfield."
It's all about making the routine play, and that has been the manager's obsession this spring.
"There are a lot of things that go into it, but we talk about cherishing the baseball and handling the baseball, we've got to be better at it. There is no way around it, we have to be better at it up and down."
T.R. Sullivan has covered the Rangers since 1989, and for MLB.com since 2006. Follow him on Twitter @Sullivan_Ranger and listen to his podcast. This story was not subject to the approval of Major League Baseball or its clubs.