Still seeking first win, Hamels takes on Royals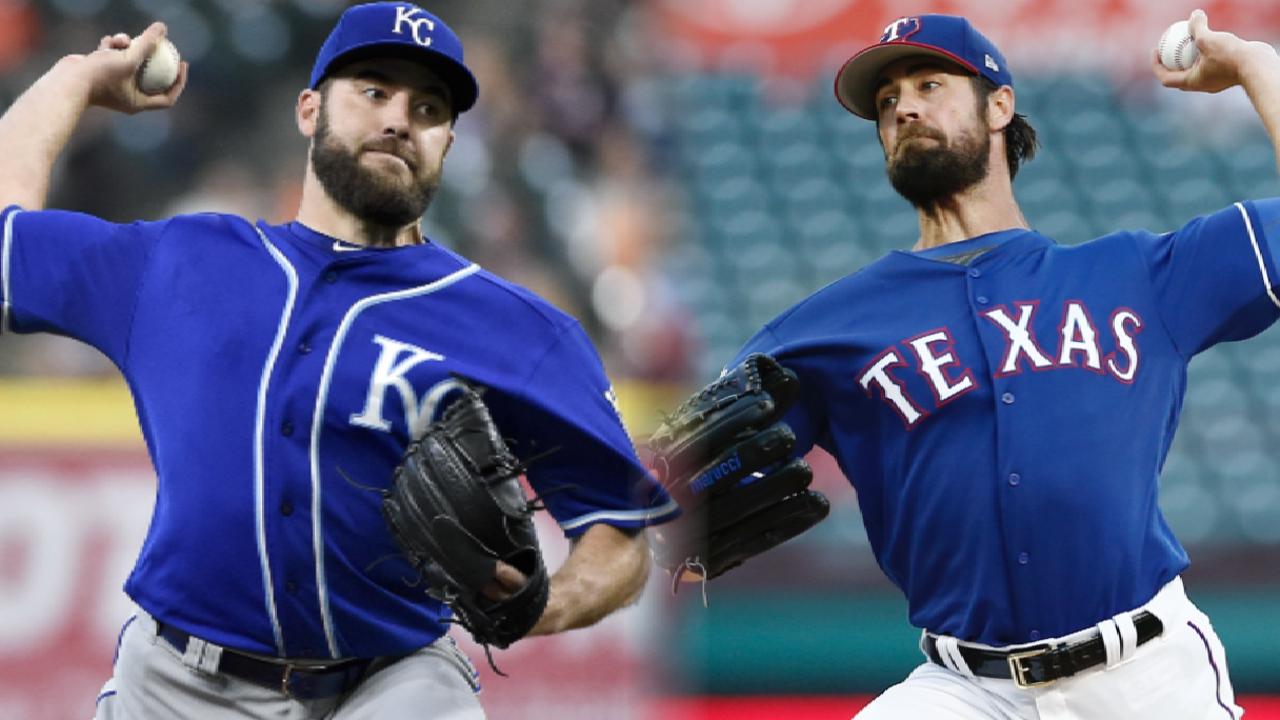 Both Rangers lefty Cole Hamels and Royals right-hander Nathan Karns are hoping their luck will change Friday night, as the two starters have gotten no-decisions in a combined five starts this season in which they were positioned to earn a win when they exited.
Hamels is the only starting pitcher in the Major Leagues this year to have left three games in line to earn a victory three times, only to see his relievers lose. Karns has been in that situation twice.
"I've got a lot of work to do," said Hamels, whose strikeouts per nine innings has dipped to 5.5, significantly lower than his career ratio of 9.0. "I just have to keep building on what I know I'm capable of doing, which is to go deeper in ballgames. Probably establish the strike zone a little more. From there, when you're able to do that, the game plays more into my hand."
Throw out his nine relief appearances and count only his 48 starts, and Karns' Major League ERA would be more than one-third of a run lower than his overall career ERA of 4.41. As a starter, Karns' ERA is 4.07. As a reliever -- including a rocky two-thirds of an inning, four-earned run outing on Opening Day -- his ERA is 9.53.
Three things to know about this game
• The Rangers are 34-13 (.723) in Hamels' 47 starts since he was traded to Texas in late 2015, with an 18-5 (.783) mark in 23 home games. The Rangers had never lost three consecutive Hamels starts until this season.
• Royals right fielder Paulo Orlando has faced Hamels only six times, all in 2016, when he collected three hits, including a solo homer, and walked once. Alcides Escobar has faced Hamels more than any other Royals regular, going 3-for-15 (.200) with six strikeouts.
• While Hamels hasn't had his customary success with strikeouts, Karns has had something of an issue with walks this season. His 44.2 percent first-pitch strike rate is the lowest of any pitcher with at least 50 batters faced, according to Statcast. Hamels is ninth on that list, at 50.7 percent.
"His walks aren't an issue for us right now," Royals manager Ned Yost said of Karns. "His first start, he was a little out of sync the first two innings and then the third inning came out and he was nails from that point on. His last start, I thought he was great from the first pitch on."
Dave Sessions is a contributor to MLB.com and covered the Royals on Thursday. This story was not subject to the approval of Major League Baseball or its clubs.