'Tremendous' effort by 'pen over 7 scoreless
Texas relievers have scuffled in '17, but set stage for walk-off win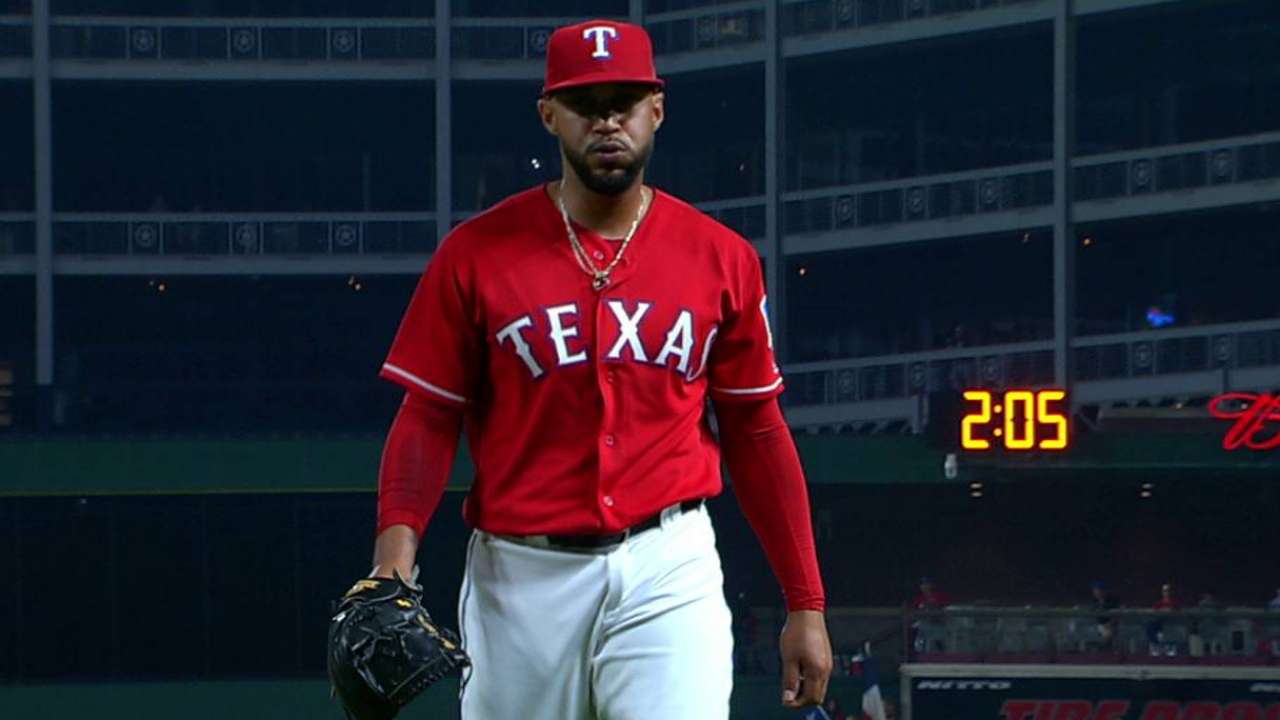 ARLINGTON -- The Rangers' bullpen has cost the team some wins this year, but they were the key to victory in Thursday's 1-0 win over the Royals in 13 innings.
Six relievers combined to throw seven scoreless innings, allowing just one hit and one walk combined, with 11 strikeouts. The bullpen kept holding, and eventually, the offense got the one run it needed on a Delino DeShields walk-off single, and lefty Dario Alvarez earned the win.
"Obviously, there's been some rhetoric about the bullpen," manager Jeff Banister said. "A tremendous job by everybody. None more than by Alvarez late. He got behind some guys, but was able to come back and make some pitches, seemed to be in a really good rhythm."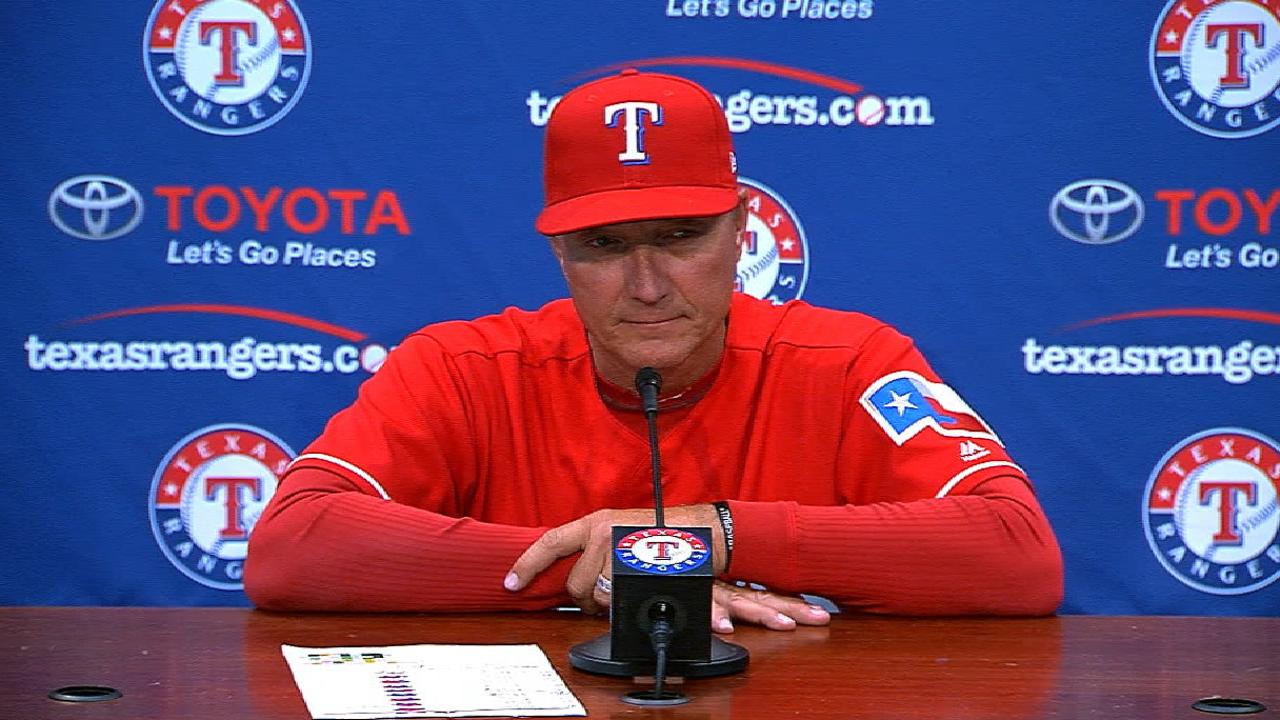 The Rangers entered the night 27th in the Majors in bullpen ERA and No. 28 in opponent batting average from a bullpen. But on Thursday, no Royals player reached scoring position against a Texas reliever, nor did they get more than four batters to the plate in any of the seven innings.
The bullpen took over in the seventh inning following six shutout innings by Andrew Cashner in his second start of the season. Cashner allowed only three hits, while walking four and striking out three.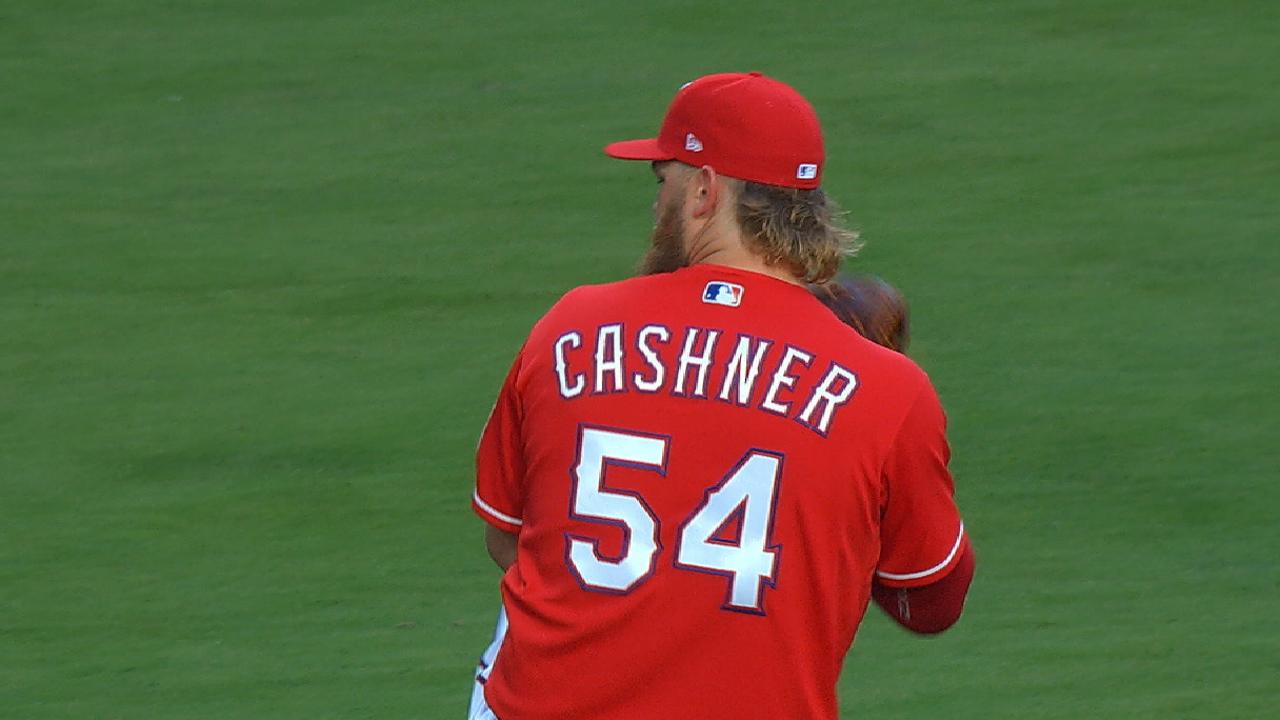 Tony Barnette took over in the seventh and struck out two in one inning. In the eighth, left-hander Alex Claudio allowed one hit and struck out two, and Jeremy Jeffress got the final out of the frame.
Matt Bush pitched a perfect ninth, with two strikeouts. Keone Kela took the 10th and produced three groundouts on six pitches for a quick inning. In the 11th, Kela recorded two more strikeouts in another 1-2-3 inning.
"We tell each other, 'You're nasty,'" Jeffress said. "We play around with each other all the time. We're close, give each other confidence and feed off each other inning by inning."
Alvarez was next up for the 12th. He allowed a leadoff walk, but got the next six batters out through the top of the 13th, including three strikeouts. Kansas City's last hit came in the eighth.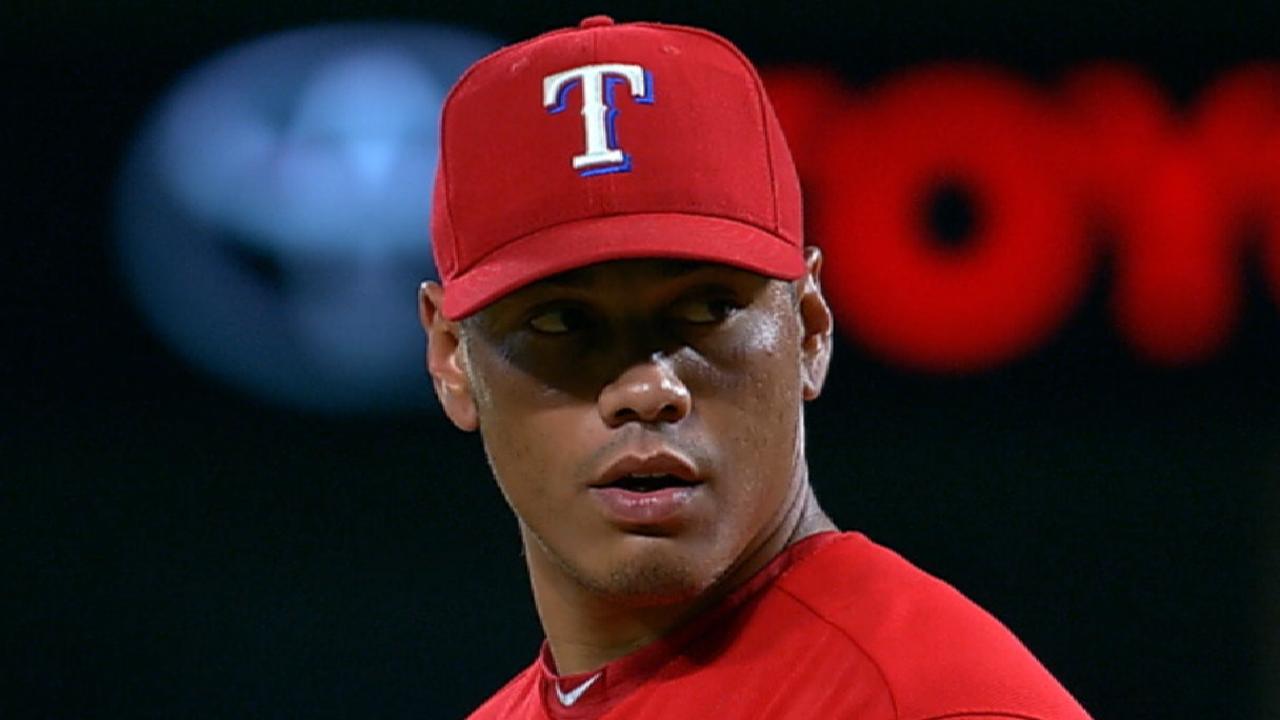 "We had 21 three-pitch-or-less situations tonight," Banister said. "We know those guys in the bullpen are quality pitchers. When they do get in a rhythm, they feed off each other. It's about coming in and putting up zeros. You saw that. You saw Jeffress come in in a big situation and get a key out. You saw Claudio continue to dial it up. Barnette early set the tone with how he pitched in a high-leverage situation in the ninth. They made quality pitches. That's who those guys are."
The win begins a 10-game homestand on a high note after a 3-6 road trip. Five of the Rangers' 10 losses have been credited to the bullpen, but they hope a performance like Thursday's can get everyone back in the right direction.
"I get excited for [my] bullpen buddies," Alvarez said through a team translator. "That's what they want to do. They fight for each other, help take care of each other's backs."
Chris Vannini is a contributor to MLB.com and covered the Rangers on Thursday. This story was not subject to the approval of Major League Baseball or its clubs.