Gomez (hamstring strain) out 4-6 weeks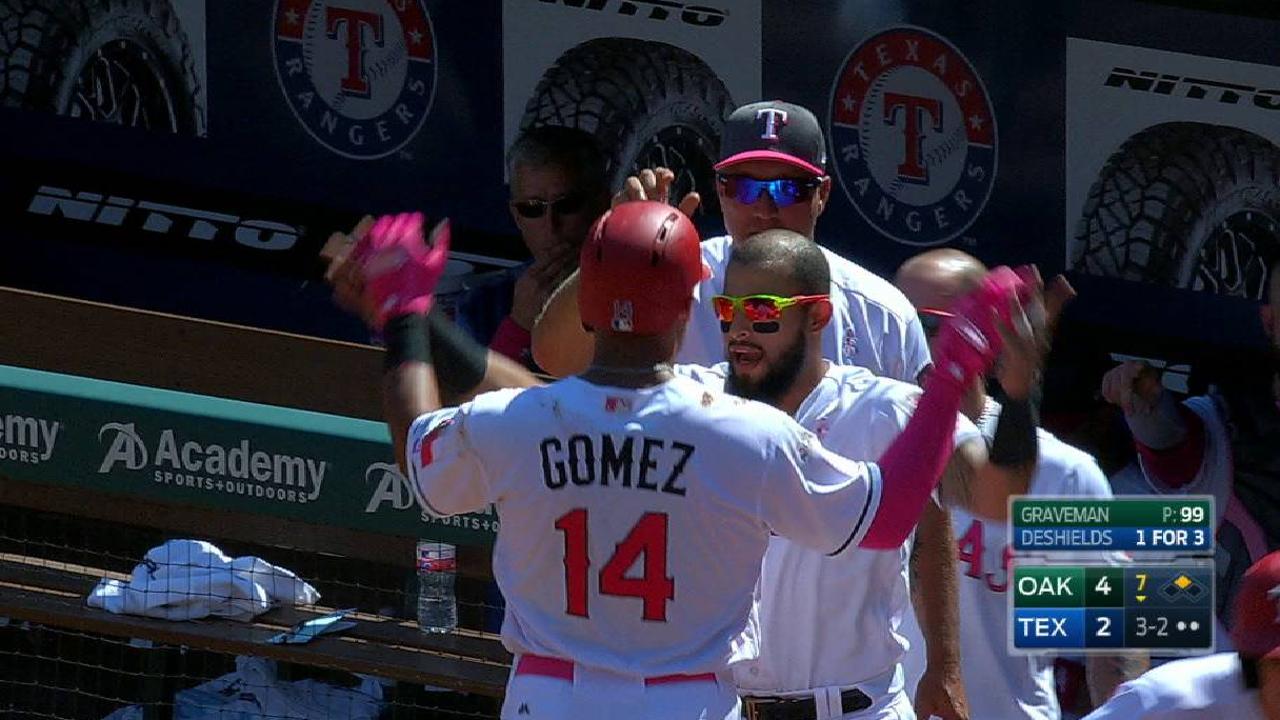 ARLINGTON -- The Rangers announced Monday that outfielder Carlos Gomez will miss four to six weeks with a right hamstring strain. Gomez, who was injured Sunday, underwent an MRI and further examination by Dr. Keith Meister on Monday, with the test confirming the strain. He's been placed on the 10-day disabled list.
Jared Hoying was called up by the Rangers on Tuesday. Hoying, who was not in the Triple-A Round Rock lineup on Monday against Reno, was a leading candidate along with Jurickson Profar, who has been mainly playing shortstop since being sent to Round Rock on April 30.
In the seventh inning of the Rangers' 6-4 win Sunday, Gomez scored from second base on an infield hit to third, but he favored his right leg as he walked off the field after crossing the plate. He was looking to slide, but the location of the bat and the catcher near the plate made him change and run across, leading to the strain.
He was replaced in the lineup by infielder Pete Kozma.
"I [went] into a slide, and when I realized the bat was on the plate and the catcher not in the right position, I tried to [get more] speed, and it's how my leg [got hurt]," Gomez said. "I go full-speed, and when I see I don't have time to slide because I'll get hurt, I tried to accelerate again and felt it."
Coming from second base, Gomez turned third base hard on Delino DeShields' soft grounder to third. Gomez looked at the third baseman and kept pushing hard when the throw went to first. The Rangers trailed 4-2 at the time, and Gomez was the first to score in a three-run inning to give the Rangers the lead.
"I know he's an aggressive baserunner, but for him to go there, that's heads-up baserunning," A's starter Kendall Graveman said.
The injury cut short a strong performance for Gomez. He was 3-for-3 with a double in Sunday's game. It was his first game with at least three hits since April 29, when he hit for his second career cycle, and just his third game with at least three hits this season. Sunday pushed Gomez's average up to .246.
The hamstring injury also came one inning after Gomez made an inning-ending diving catch in center field in the sixth. The Rangers trailed 4-2, and the catch kept at least one more A's run off the board with a runner on third.
"It was huge," shortstop Elvis Andrus said of the catch. "Carlos has been a key player for us. Not only getting on base and the running game, but defensively, he's a game-changer, making so many plays this year. It gave us good momentum. Sometimes good plays for the last out, you come back with runs."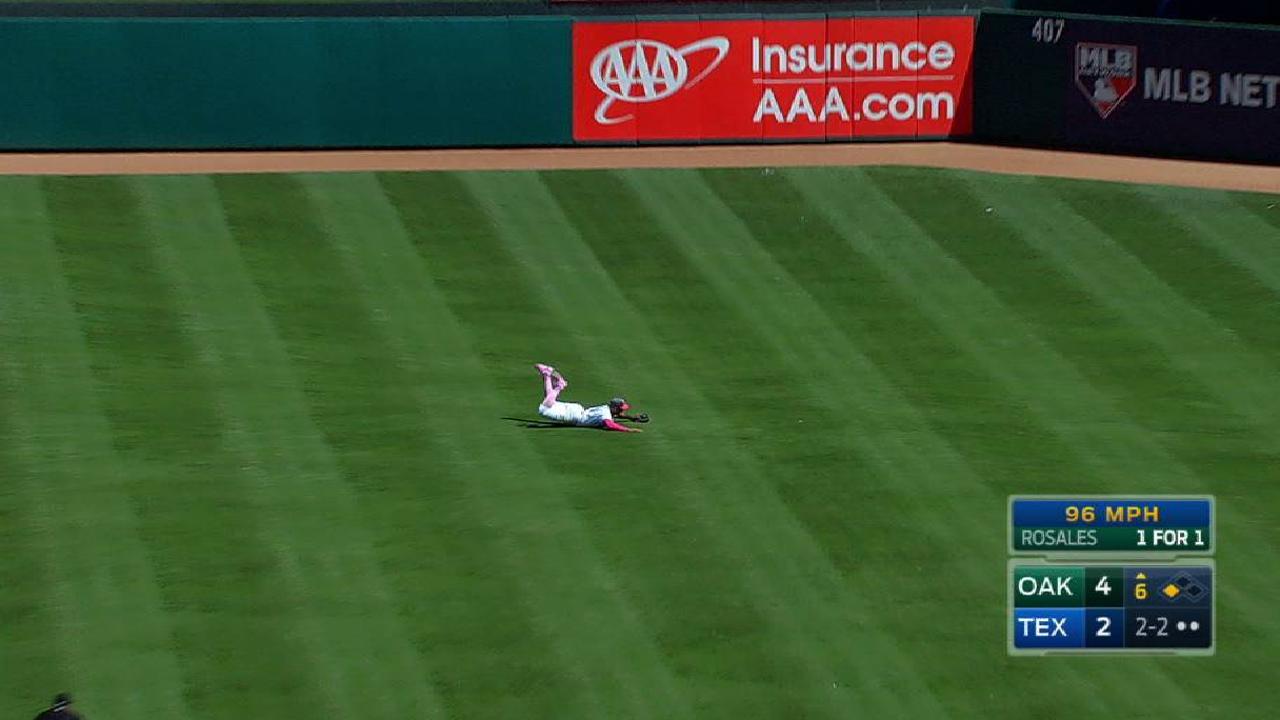 Worth noting
• Shin-Soo Choo was scratched from the lineup before Sunday's game because of back spasms. Choo said it's something he's dealt with in the past, but he felt much better after the game than when he arrived at the ballpark.
"Choo came in with some spasms in the lower back, so he was unavailable to us," Rangers manager Jeff Banister said. "He was originally in the lineup but was scratched. He seemed to be better at the end of the day. We'll know more after the off-day [on Monday]."
Chris Vannini is a contributor to MLB.com based in Dallas. This story was not subject to the approval of Major League Baseball or its clubs.