Rangers have come to count on Claudio
Lefty might lack velocity, but results are undeniable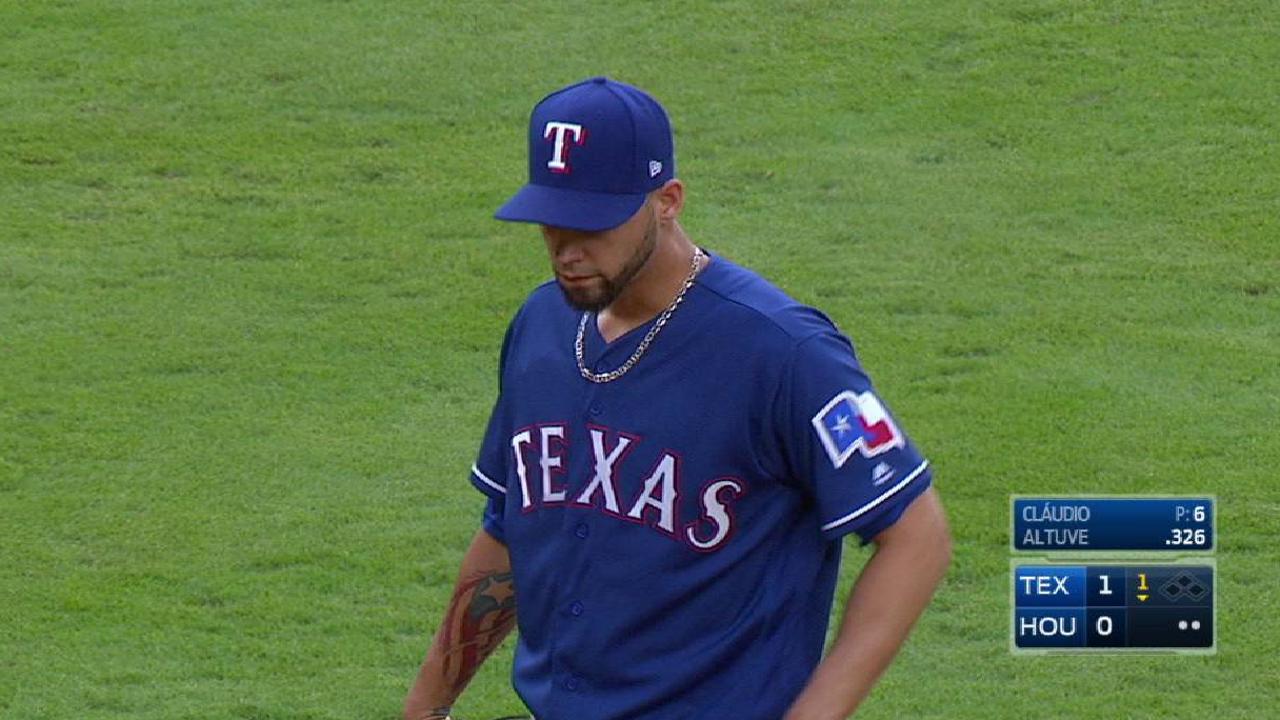 ARLINGTON -- Manager Jeff Banister has a simple theory regarding pitching.
"The art of pitching is strike one and then executing a pitch to get an out," Banister said.
That explains why Banister, with a rested bullpen, elected to go with left-hander Alex Claudio in the eighth inning on Tuesday night with the Rangers holding a 3-1 lead.
Claudio's fastball averages 86 mph, the slowest on the pitching staff. But his 2.45 ERA and 1.04 WHIP are the second lowest among active Rangers relievers behind closer Matt Bush.
"He proves us right," Banister said. "He throws strikes, gets the ball on the ground and off the barrel [of the bat], and typically doesn't beat himself. It's a different look, different arm angle and a different speed."
Claudio was also following Yu Darvish, who is right-handed and a power pitcher. Claudio already has one save this season and is hoping for more late-inning work.
"I like it," Claudio said. "I like that the manager has confidence in me."
Sale sighting; Price possible
The Rangers are scheduled to face 2016 Cy Young Award winner Rick Porcello and All-Star left-hander Chris Sale during their three-game series with the Red Sox next week in Fenway Park. Right now, Porcello is lined up to pitch on Tuesday and Sale would go on Thursday.
In addition, the Red Sox could bring David Price off the disabled list to pitch on Wednesday. He is sidelined with a strained left elbow but is scheduled to pitch on rehab assignment on Friday. If that goes well, his next start could be against the Rangers.
The Rangers are scheduled to face left-hander Daniel Norris, right-hander Justin Verlander and left-hander Matthew Boyd in their three-game series against the Tigers this weekend at Comerica Park.
Rangers beat
• Right-hander Tyson Ross, on the disabled list recovering from shoulder surgery, is scheduled to throw four innings and 60-65 pitches in an extended spring training game on Thursday in Arizona. If that goes well, he would likely make at least two medical rehabilitation starts in the Minor Leagues before being a Major League option.
• Right-hander Jose Leclerc is eligible to come off the disabled list on Thursday but is still not ready. Leclerc is sidelined with a bruised right index finger and is still building back the strength. He has been limited to throwing changeups, the one pitch he doesn't need the index finger for.
• Darvish, after holding the Phillies to one run in seven innings on Tuesday, is 8-2 with a 2.19 ERA in Interleague Play. That's the lowest ERA among pitchers with at least 12 starts in Interleague Play.
T.R. Sullivan has covered the Rangers since 1989, and for MLB.com since 2006. Follow him on Twitter @Sullivan_Ranger and listen to his podcast. This story was not subject to the approval of Major League Baseball or its clubs.