Texas bats on his side, Perez finds new gear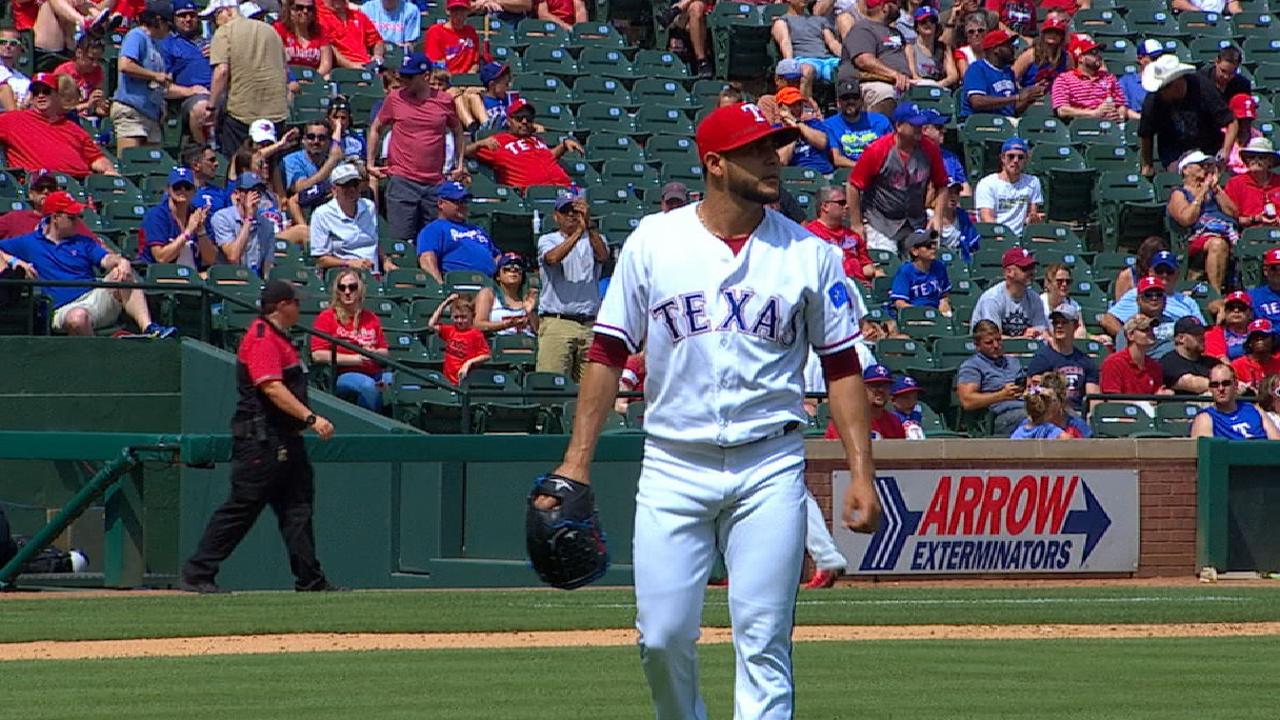 ARLINGTON -- Rangers lefty Martin Perez entered Thursday's series finale against the Phillies having received such scant run support this season that his catcher practically had to remind Perez how to pitch with a comfortable lead.
When the day began, before the Rangers' 8-4 victory extended their winning streak to nine games, Texas had scored only 2.67 runs per start for Perez, the second-lowest run support average in the Major Leagues. Hence Robinson Chirinos' pep talk after the Texas bats erupted for eight runs between the fifth and sixth innings: Perez was in an unfamiliar situation.
"I was telling Martin in the dugout, 'Treat it like it's a 0-0 game. Keep pitching, keep making pitches, keep getting ahead of guys,'" Chirinos said. "Sometimes as a pitcher or a position player, you relax too much and you forget to execute and keep doing everything the game asks you to do. He did great today.
"It's good to see Martin going deep in the game. I think his whole game today, it was fluid. Sometimes he has that one inning that's long, he misfires a lot of pitches. Today, it was not the case."
Perez struck out eight Phillies and walked none in seven innings, a far cry from what the Rangers saw from the lefty in April, when he walked 19 in 31 2/3 innings. Despite allowing a triple and sacrifice fly in the second inning, and a solo homer by Maikel Franco in the fifth, Perez never faltered, even when the Rangers trailed, 2-0, entering the bottom of the fifth.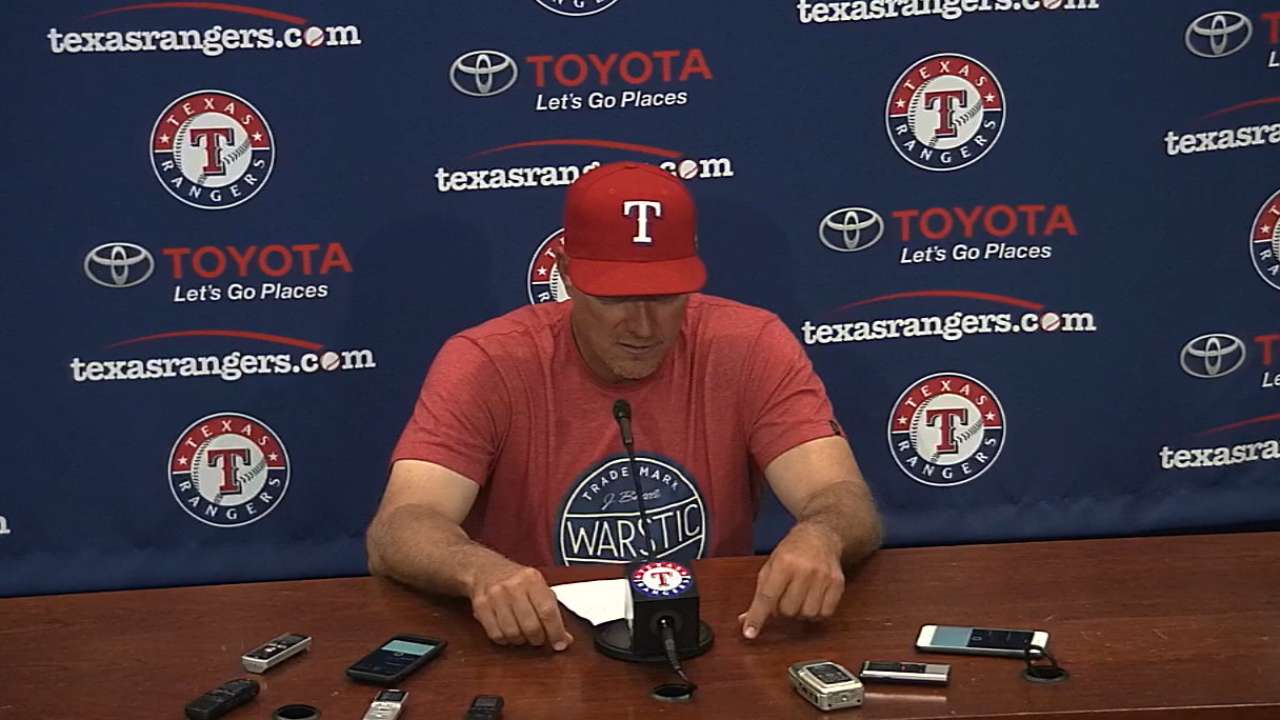 "Just tremendous," Rangers manager Jeff Banister said of Perez. "He was able to control himself early when he gave up a couple [runs] early. I really felt like this was as good an outing as he's had, consistently throughout."
Still, Perez's performance wouldn't have mattered if his offense had been as unproductive as it often has been with him on the mound this season. The Rangers have scored two runs or fewer in five of Perez's nine starts, making Thursday's offensive outburst even more rewarding.
"Our guys know that -- they're very aware of who they score for and when it's a challenge," Banister said.
Perez acknowledged that it helps "a lot" to know he has insurance runs behind him, "but my focus now is to go out there and throw quality pitches and give a chance to my teammates for a win; that's all. You don't have to think if you're going to win or lose. I just want to continue to do what I've been doing."
This month, Perez has been delivering quality starts -- three in as many outings in May -- and he has a 2.79 ERA, compared to the 4.26 mark he posted in April.
"He's throwing more strikes, not only with his fastball, but his changeup, his breaking ball," Chirinos said. "He's been using more of his curveball the last three or four outings. It's good to see that. He's working really hard in the bullpen, and it's starting to show in the games. … As a hitter, I don't want to face Martin the way he's pitching lately."
Dave Sessions is a contributor to MLB.com based in Texas and covered the Rangers on Thursday. This story was not subject to the approval of Major League Baseball or its clubs.