Inbox: What's on deck for Gallo?
Beat reporter T.R. Sullivan answers Rangers fans' questions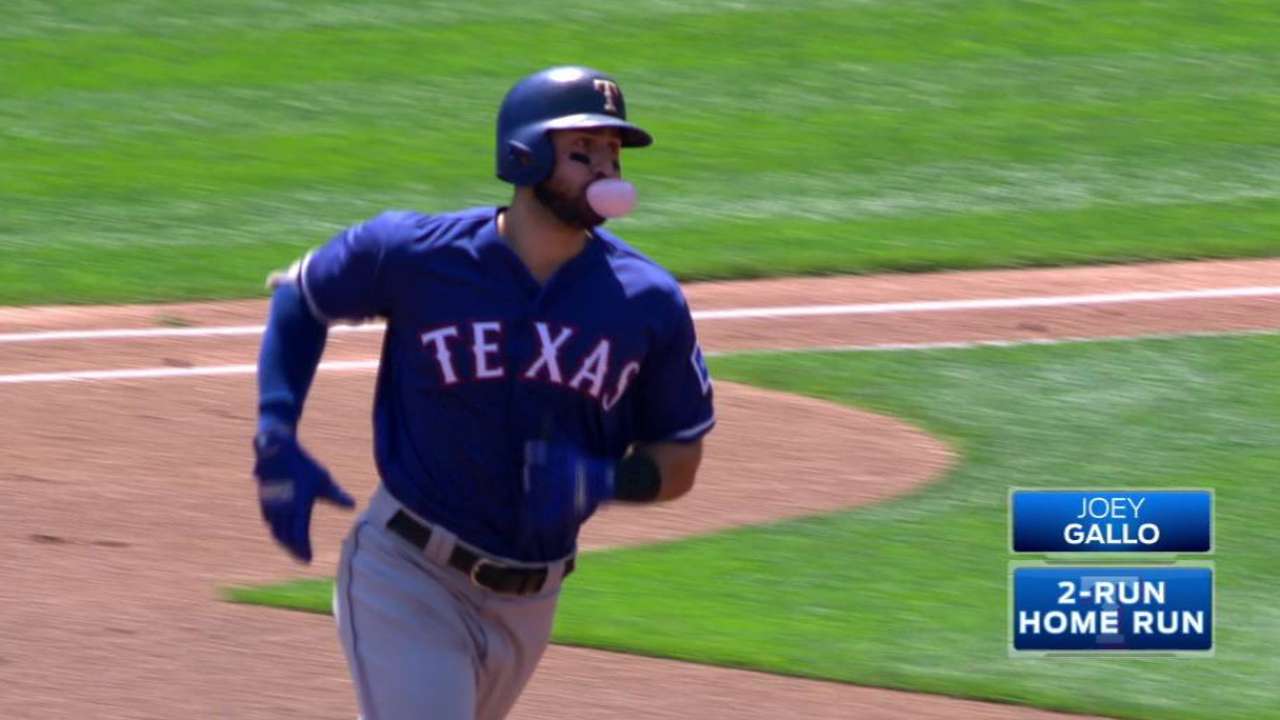 How impressive has Joey Gallo been since the All-Star break? Is this just a good stretch or is he finally turning a corner?
-- Ashten, P., Garland, Texas
This is the real deal for a couple of reasons beyond physical talent. One, Gallo has a high baseball aptitude with the ability to understand a solid approach to hitting and make adjustments. He has learned much as the season progressed. Second, Gallo is tough mentally, and he refused to get buried by early-season struggles. There were times when it was tough to watch him hit. That is no longer the case.
• Submit a question to the Rangers Inbox
Do the Rangers have a realistic shot at signing Shohei Ohtani this offseason?
-- Paul F., Fort Worth, Texas
Since the Rangers consider signing Yu Darvish to be a big success, there is no doubt they have their eyes on Ohtani. There is also no doubt they are stockpiling international draft money, although this is smart every year no matter what the plan. The scouting reports all seem unanimous in their praise of Ohtani's pitching ability, but he has made just one start this season because of injury. There is also no official word if he will be made available this offseason.
With lefties abounding on the roster and waiting in the Minors, it seems there are some players who can be moved. Who do you think stays and who gets traded out of Nomar Mazara, Rougned Odor, Gallo, Willie Calhoun, Drew Robinson, Brett Nicholas and Ronald Guzman?
-- Sean P. Las Vegas
Gallo and Mazara should be untouchable. Calhoun, Robinson, Nicholas and Guzman are unproven, so it's doubtful they could be the centerpiece of a trade. Odor might be the guy to move if Texas could get starting pitching in return, depending on his perceived value, plus the fact that he has a hefty long-term contract.
What's a realistic best-case scenario for the Rangers' starting rotation next year?
-- Nick M., Denton, Texas
Cole Hamels, Martin Perez, one overpaid free agent, one starter acquired by trade and getting creative (or lucky) on a fifth starter, plus A.J. Griffin and Nick Martinez coming back. Andrew Cashner, a free agent, would be nice to bring back, but he'll be 31 and looking for the best deal possible. The Rangers will also revisit the possibility this offseason of moving Matt Bush to the rotation.
Free agency is going to be a roll of the dice. Two of the most attractive pitchers are Lance Lynn and Alex Cobb. Both are having nice seasons, but only after returning from Tommy John surgery. The free-agent market for starting pitching is strictly caveat emptor.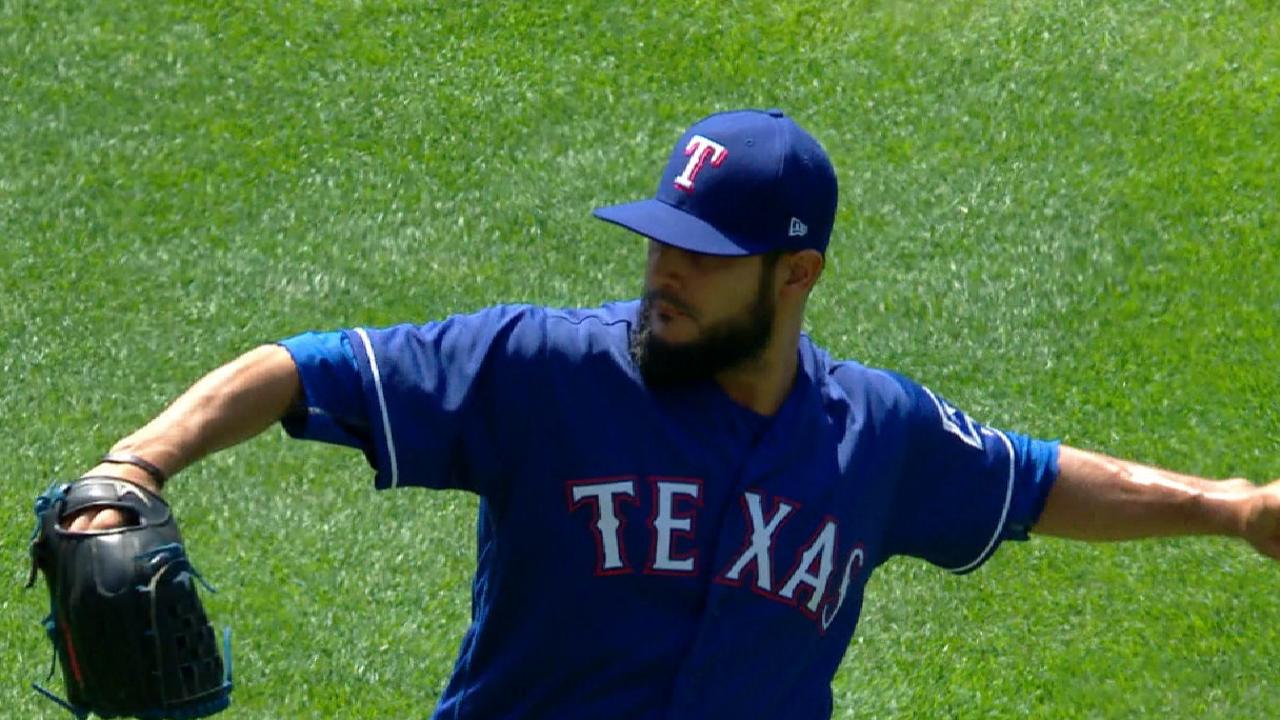 With the free-agent crop this offseason, could you see Jon Daniels revamping this roster or going to a full-on rebuild?
-- Tex R., Wylie, Texas
The Rangers have enough offensive talent to merit a serious effort to assemble a contending team this offseason rather than embark on a rebuilding program. Putting together the rotation will be the toughest part. But Texas has been known to be creative and opportunistic in the past, the high mark being when the club signed Colby Lewis out of Japan in 2010. Nobody saw that coming, and it was brilliant.
Will the Rangers call up Willie Calhoun this season? If so, what position will he be playing.
-- Arturo S., Alto, Texas
At a minimum, Calhoun should be a September callup, either as a bench player for a contending team or getting a serious look for next year if the Rangers are out of it.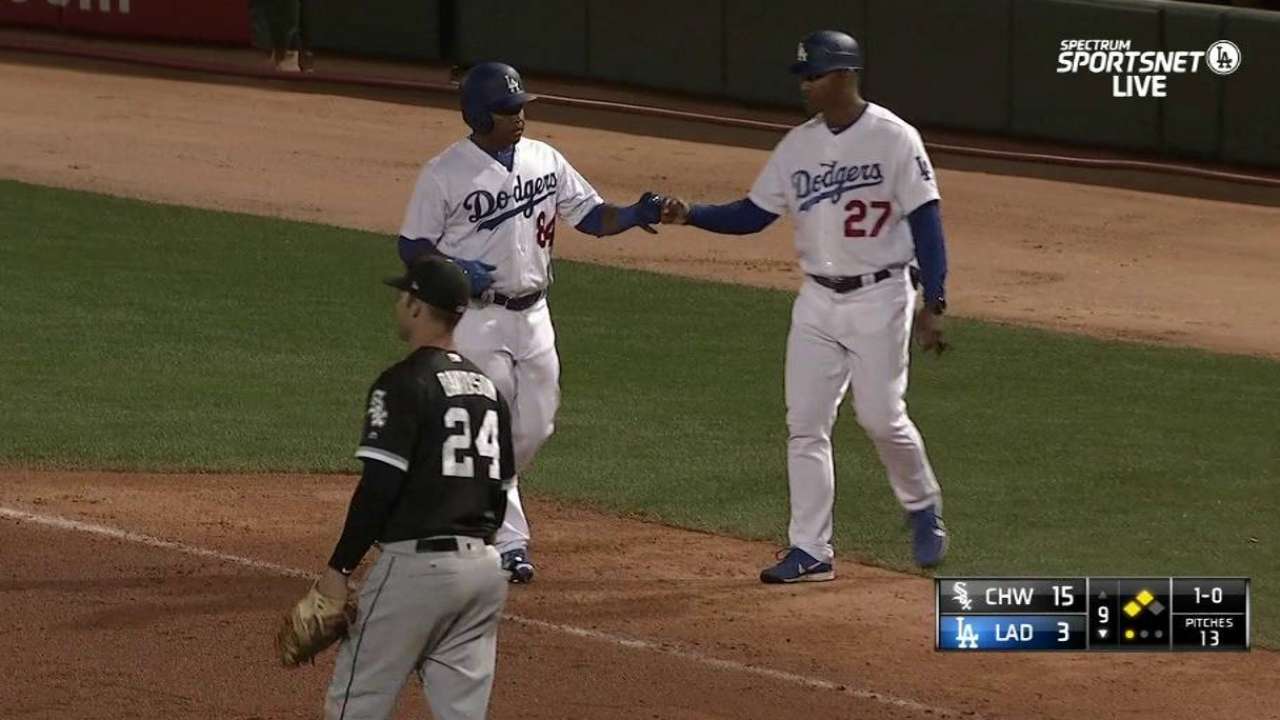 What is the Opening Day lineup going to look like when the new "Temple" opens?
-- Jim W., Allen, Texas
Gallo, Mazara, Elvis Andrus and six players to be named later.
T.R. Sullivan has covered the Rangers since 1989, and for MLB.com since 2006. Follow him on Twitter @Sullivan_Ranger and listen to his podcast. This story was not subject to the approval of Major League Baseball or its clubs.