Gallo encouraged by workout Wednesday
Rangers slugger expects to come off 7-day DL Tuesday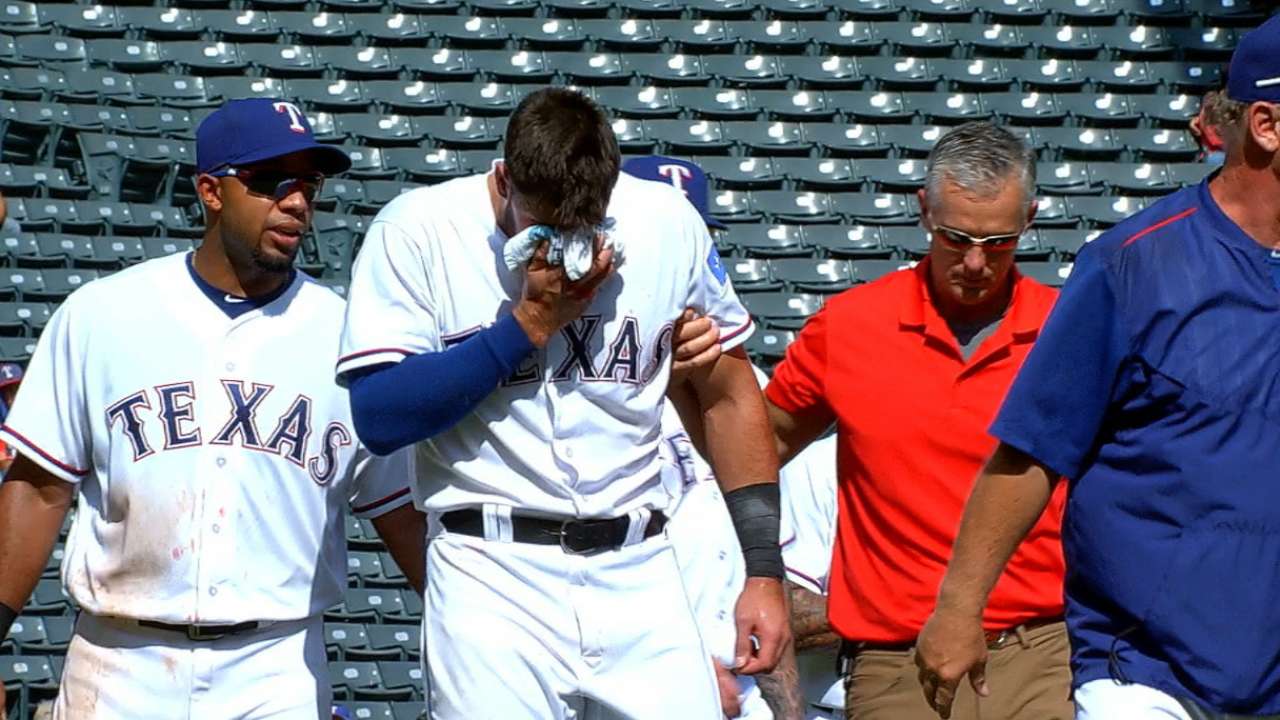 ANAHEIM -- Joey Gallo rejoined the Rangers on Wednesday after being placed on the 7-day concussion disabled list earlier this week and underwent a light workout at Angel Stadium.
"My face is actually OK," Gallo said. "It was swollen up the last couple days but it's actually gone down a lot. I don't really have any problems breathing. That's not what I'm really concerned about. I'm trying to get back into the speed of games and activities."
Gallo, who remains in concussion protocol, participated in workout activities in the team's training room while also hitting off a tee and taking fly balls and grounders on the field. He sustained the concussion following a collision with teammate Matt Bush in Sunday's loss to the White Sox.
The Rangers' home-run leader with 35, Gallo was feeling much better in comparison to his workout Tuesday while still in Texas, but is still working through concussion-like symptoms. He also suffered a nondisplaced nasal fracture from the collision.
"We did some physical stuff yesterday and I just felt a little off, like a little dizzy, while I was doing them." Gallo said. "I had to take a lot more time in between than I usually would. If I was on a baseball field right now, it would be hard to backhand a baseball and throw it to first accurately, and doing it again the next play would be tough for me.
"Just in those situations, I was a little light-headed and dizzy but it's getting better day-to-day."
Gallo is still undergoing tests as part of the concussion protocol but seemed confident he'd be able to return when eligible Tuesday, just in time to open an important series against the Astros at Minute Maid Park.
"Yeah, I don't see why not," said Gallo, who didn't believe he'd need protective facial gear when activated. "That's six days from now so it kind of gives me the time to rest and do the activities and the tests I need to do to go out and perform."
"I probably should've called it but I just didn't think about [Bush] being there. But he's so athletic and he's so aggressive that when I went over, in the back of of my head I was thinking, 'Could he possibly be running to this ball, too?' … It was nobody's fault. He made the play and we were in the shift."
Rangers get Gonzalez from Rockies as PTBNL
The Rangers on Wednesday received Minor League outfielder Pedro Gonzalez from the Rockies as the player to be named later to complete the trade of catcher Jonathan Lucroy.
Gonzalez, who's the Rockies' No. 14 prospect according to MLBPipeline.com, is hitting .321/.388/.519 with three homers and 28 RBIs 45 games with short season Grand Junction, primarily playing center field.
The 20-year-old, 6-foot-5 prospect will be assigned to short season-A Spokane and has hit .472 with 10 RBIs over his last 13 games. The Rockies signed Gonzalez out of the Dominican Republic in July 2014.
Martinez and Bibens Dirkx options to start Sunday
Tyson Ross is the scheduled starter Sunday, but Rangers manager Jeff Banister said Nick Martinez and Austin Bibens-Dirkx are also candidates to make the start after Ross failed to complete six innings for the ninth time in 10 starts this season in Tuesday's 10-1 loss to the Angels..
Martinez is scheduled to start Thursday with Triple-A Round Rock while Bibens-Dirkx threw two-thirds of an inning in relief Tuesday.
"We're still on the evaluation portion of it," Banister said. "I know that Doug [Brocail] and Brad [Holman] and all the pitching people are still diving into what they saw."
Ryan Posner is a contributor to MLB.com based in Los Angeles. He covered the Rangers on Wednesday. This story was not subject to the approval of Major League Baseball or its clubs.