Darvish-Soto a terrific tandem for Texas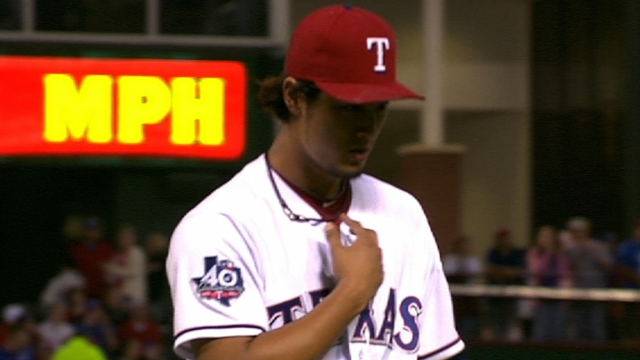 ARLINGTON -- Mike Napoli's return to the lineup on Saturday after a month away means a likely splitting up of the catching duties with Geovany Soto.
But there's one stipulation -- for now, Soto will catch the rolling Yu Darvish.
Darvish is 4-1 with a 2.32 ERA in his last six games, all of them with Soto behind the plate. Opposing hitters are batting .150 against him, and his walks are way down -- to 2.74 per nine innings.
Manager Ron Washington, who prefers not to pair certain pitchers with catchers, won't do anything to break up the Darvish-Soto duo.
"That one I'll let happen," Washington said. "They've been consistent and on the same page. [Soto's] had Darvish when he started getting his game together. Darvish has something to do with that, too. We'll keep that mojo going."
Washington added that if Soto ends up catching former Cubs teammate Ryan Dempster, it will be a coincidence.