Olt looking to find his niche with Rangers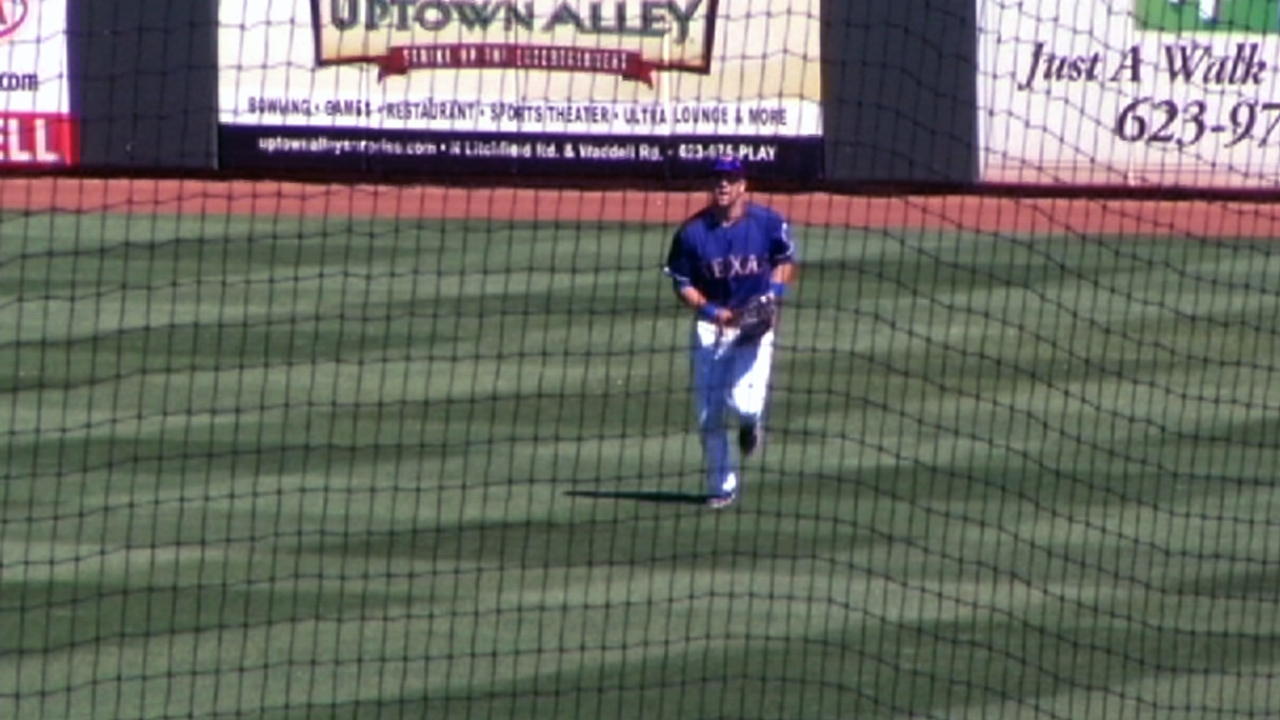 LAS VEGAS -- There are Major League teams sitting on Mike Olt this spring and have sent scouts to watch him play. If the Rangers feel the need to reinforce their pitching staff from outside the organization -- either the rotation or the bullpen -- they could find a market for Olt.
Two problems exist. The Rangers don't appear any more inclined to trade Olt now than they did in the off-season. The other problem is scouts haven't exactly seen Olt at his best this spring.
Olt went into Saturday's game with the Cubs with five hits in 27 at-bats (.185) this spring, along with two home runs and five RBIs. He had three walks against 10 strikeouts. But manager Ron Washington said he believes Olt is starting to come around.
"He's starting to show something," Washington said. "He's starting to relax and have better at-bats. He's better. He really is."
Some thought Olt was pressing trying to make the team. Olt said that wasn't the case.
"Obviously you think that when somebody is struggling, but that's the last thing I'm thinking about," Olt said. Obviously that's the goal, but if you start thinking about that, you're not going to do well. The whole thing was I was up there swinging and thinking about mechanics, and not relaxing and let the thing I'm working on in the cage come naturally."
Defense has not been a problem. Olt has always been an excellent third baseman and has also shown significant improvement in right field. The Rangers are growing confident he can play the position, if needed.
"He's done a real good job," Washington said. "He looks comfortable out there."
The Rangers don't need him at either position right now, with Adrian Beltre at third and Nelson Cruz in right. The Rangers still don't know the outcome of Major League Baseball's investigation into a Miami wellness clinic allegedly involved in distributing performance enhancing drugs. Cruz's name has been linked to the clinic.
That also doesn't mean Olt is the Rangers alternative in right field if something happens to Cruz. Craig Gentry has been playing right field on occasion this spring. He and Leonys Martin are headed for a platoon arrangement in center field based on the way they've played this spring, but Gentry can move to right if needed.
Olt could make the team as a backup at third base and right field. But Jeff Baker is leading the competition to win that spot because he is having a tremendous spring and can play more positions than Olt.
But Olt remains the Rangers best power-hitting prospect and the 22nd best overall prospect as ranked by MLB.com. He could easily end up the answer in right field next season if Cruz departs as a free agent. The Rangers don't want to trade him, they just want to see him get hot at the plate. That would give the scouts something to report back to the home office.
T.R. Sullivan is a reporter for MLB.com. Read his blog, Postcards from Elysian Fields, and follow him on Twitter @Sullivan_Ranger. This story was not subject to the approval of Major League Baseball or its clubs.