With McClellan down, priority is filling out 'pen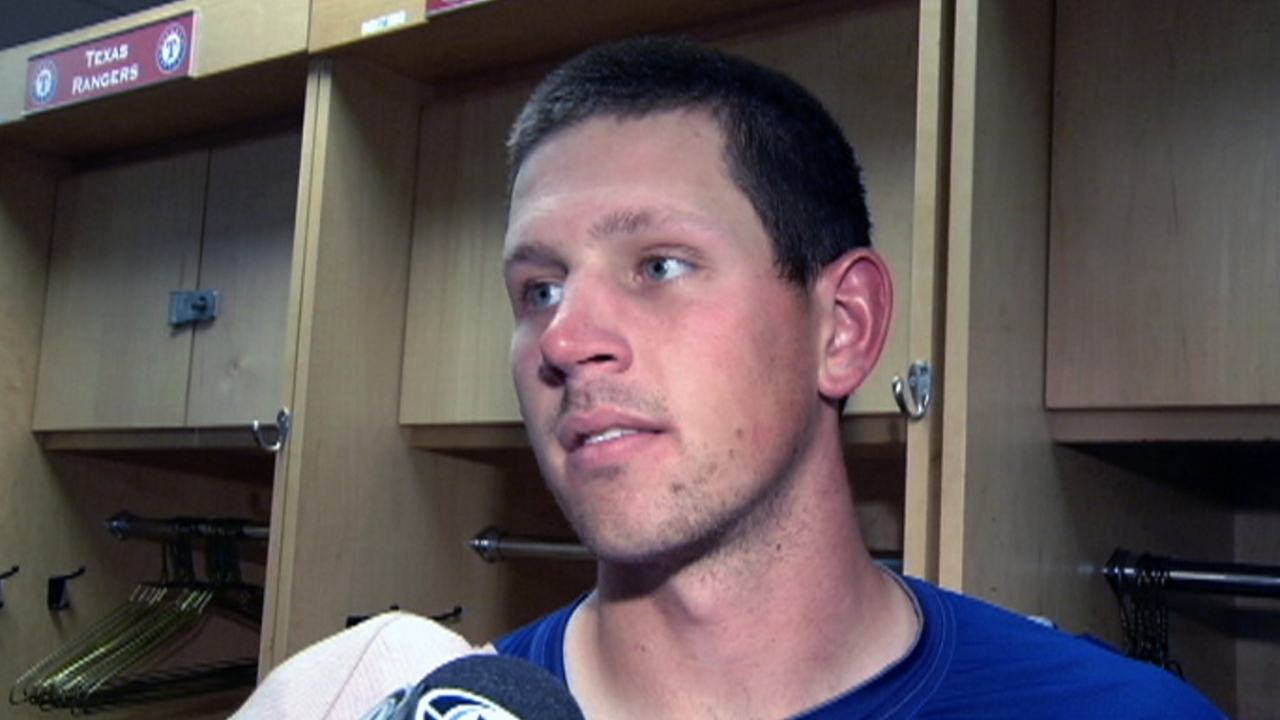 LAS VEGAS -- With two weeks to go before Opening Day, the Rangers are more concerned about their bullpen than their starting rotation. Losing Kyle McClellan to a strained muscle in his ribcage is the latest setback for the bullpen and, according to club officials, the Rangers would much rather find relief help than another candidate for the fifth starter.
"I think our primary focus at all times is to fill jobs from within, but one of the pluses of working with [general manager Jon Daniels] is there are never any stones unturned," assistant general manager Thad Levine said. "This is the time of year where you are calling other teams and you're trying to find out what their surpluses are and their needs and see if they match up with ours. We've already been having those conversations, but now we just may put a little more emphasis on them."
The two guys that could rescue the bullpen are left-hander Robbie Ross and right-hander Josh Lindblom. With McClellan down, they could be the key to the Rangers having an effective bullpen right from the beginning.
Ross, who started against the Cubs on Sunday, is still a candidate for the fifth spot in the rotation. But the Rangers are considering the possibility that they might be better off leaving Ross in the bullpen and turning the fifth-starter job over to rookie Nick Tepesch until Colby Lewis returns sometime in May. Tepesch has a 3.46 ERA for the spring after allowing three runs in five innings against the Cubs on Saturday. Opponents are hitting .250 off him, and he has walked three while striking out 10 in 13 innings.
"He's got a four-pitch mix and throws strikes with all of them," manager Ron Washington said. "He gave up some runs, but he didn't back down. They found some holes, but he also shut down some innings that could have been worse."
Lewis, who underwent surgery to repair a torn flexor tendon on July 27, is expected back by June 1. The Rangers, with eight off-days in the first two months of the season, could manipulate their rotation so the fifth starter would get as few as eight starts before Lewis's return. That would be four less than the Opening Day starter.
If Tepesch makes the rotation, Ross would rejoin left-hander Michael Kirkman, right-hander Jason Frasor and closer Joe Nathan in the bullpen. If Ross does win the fifth starter spot, then Tepesch would probably go to Triple-A, and the Rangers would likely pick a second left-hander -- veteran Nate Robertson or rookie Joe Ortiz.
That would leave the Rangers with three spots to fill in the bullpen. The Rangers want Lindblom to seize one of them. He's a hard-throwing right-hander who has appeared in 101 games the past two seasons with the Dodgers and Phillies. He's posted a 3.31 ERA and opponents hit .227 off him.
Lindblom, acquired in a trade for infielder Michael Young, averaged 92 miles per hour on his sinking fastball last year, and the Rangers have been concerned because his velocity has been down this spring. Opponents are hitting .333 off him, but he set down the side in order with two strikeouts against the Dodgers on Saturday.
Lindblom would join Frasor in giving the Rangers two power right-handers in the bullpen. Tanner Scheppers, who is the hardest-throwing pitcher in camp, is also a candidate, but he has been erratic to this point. The ultimate answer is Joakim Soria, but the two-time All-Star is not expected to be fully recovered from Tommy John elbow reconstruction surgery until sometime in May.
If the Rangers have two reliable setup relievers from both the right and left side, they would have multiple options for the final two spots in the bullpen, including the possibility of a third left-hander. Veteran right-handers Derek Lowe and Evan Meek will continue to get a hard look, but the Rangers could also use a long reliever.
That might be the best role for either Randy Wells or Justin Grimm. Both are still in the running for the fifth starter, but the Rangers are more concerned about the bullpen than anything right now.
T.R. Sullivan is a reporter for MLB.com. Read his blog, Postcards from Elysian Fields, and follow him on Twitter @Sullivan_Ranger. This story was not subject to the approval of Major League Baseball or its clubs.