Rangers likely to start Profar in Triple-A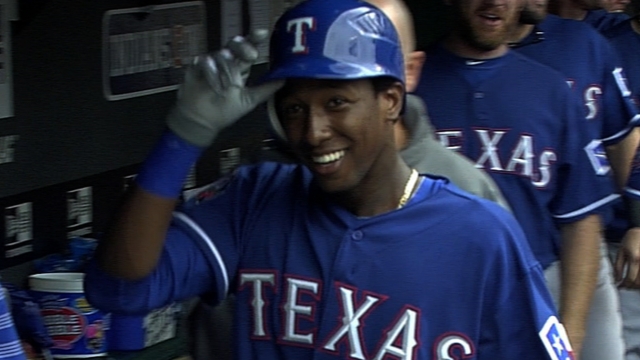 SURPRISE, Ariz. -- Rangers manager Ron Washington was effusive in his praise for infielder Jurickson Profar during his Sunday morning media session. But that doesn't mean Profar will be on the Opening Day roster.
The Rangers are leaning heavily on keeping Leury Garcia as their utility infielder so that Profar can play every day at Triple-A Round Rock. The Rangers are going to do that even though Profar has exceeded expectations this spring.
"If I was surprised by anything, it's how powerful he can swing the bat," Washington said. "I really didn't know that. I thought that a young kid and as light as he is, I thought they would knock the bat out of his hand. That hasn't happened. He has bat speed. I didn't know that because I didn't get to see it that much last season.
"He has improved tremendously and he's still going to improve because he hasn't played a ton of games yet. Mentally and physically he's improved, now we just need to get him to slow the game down at the Major League level. He doesn't play out of control; he just needs to learn how to slow it down."
The Rangers knew Profar had physical talent, but even more impressive have been his instincts for the game and his mental makeup.
"I think his instincts are pretty good for a kid that's only 20," Washington said. "He has an awareness for the game more than some players with more talent. He has a feel for the game and the kid is not afraid of baseball. Whatever baseball entails, he's not afraid of it. When dealing with young kids, that's what you try to instill -- belief in yourself."
Profar spent 2012 at Double-A Frisco before getting a September call with the Rangers. With Elvis Andrus at shortstop and Ian Kinsler at second base, the Rangers don't want Profar sitting around in the Majors doing nothing. They haven't made a final decision, but they seem intent on keep Garcia as the utility infielder and letting Profar play at Round Rock.
"We'll make that decision with Profar's best interests at heart and the Texas Rangers' best interests at heart," Washington said.
T.R. Sullivan is a reporter for MLB.com. Read his blog, Postcards from Elysian Fields, and follow him on Twitter @Sullivan_Ranger. This story was not subject to the approval of Major League Baseball or its clubs.