Borbon makes Rangers' roster -- for now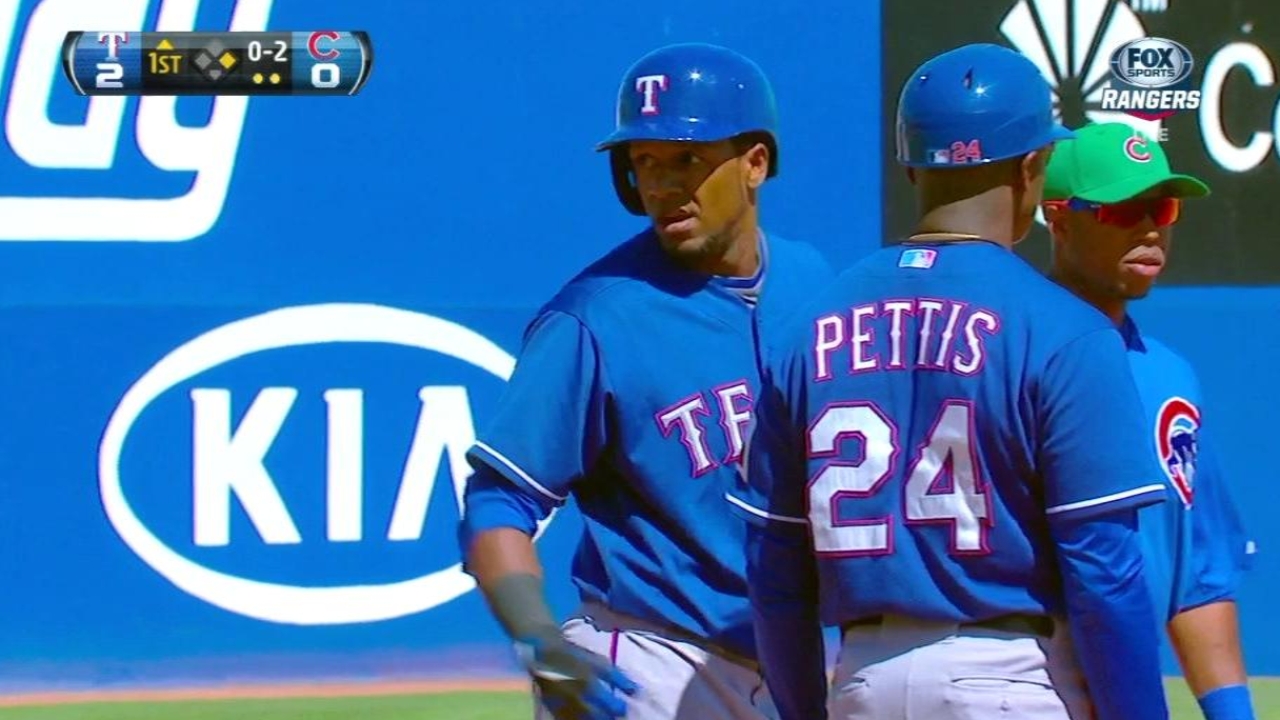 SAN ANTONIO -- Outfielder Julio Borbon has made the Rangers, at least for the next nine days. The Rangers set their Opening Day roster on Saturday by announcing that Borbon was on the team and pitchers Cory Burns and Josh Lindblom will be sent to Triple A.
The moves will be made official before Sunday's season opener against the Astros. Borbon, who hit .317 this spring, will be used in a limited role as a pinch-runner and pinch-hitter off the bench.
"Borbon earned his way onto this team, we didn't give it to him," manager Ron Washington said.
Borbon's spot is still tenuous. The Rangers are able to carry him as an extra player because they don't need to add No. 5 starter Nick Tepesch until April 9. At that point, when Tepesch is added to make his first start against the Rays, the Rangers will have to make a roster move, and Borbon may still be first in line.
He is still out of options, meaning Borbon would have to clear outright waivers before being sent to the Minor Leagues. Rangers officials said there is interest in Borbon and have had trade discussions with other teams. But it appears nothing will be done before Opening Day.
Clubs may be reluctant to give anything up for Borbon when they know he'll eventually have to be put through waivers. The Rangers may be hoping that it's easier to get him through waivers after Opening Day when other teams have set their roster.
"I'm just taking it one day at a time, we'll see where it goes," Borbon said. "I came in here in a tough spot. I'm going into the season in a different role; I'm going to do anything I'm asked to do."
Lindblom, who was one of two pitchers acquired by the Rangers from the Phillies for infielder Michael Young, had a 6.10 ERA in nine games this spring and opponents hit .326 off him. He has had success as a reliever over the past two years with the Dodgers and the Phillies but didn't impress enough this spring to make the team.
"There were seven other guys that outpitched him," Washington said. "He needs to tighten everything up -- fastball, changeup, slider. He needs to pitch well in Round Rock, everything else will take care of itself."
Burns, who was acquired from the Padres in the offseason, had a 5.79 ERA and opponents hit .278 off him. The Rangers considered keeping him instead of Borbon but decided they were covered in the bullpen.
T.R. Sullivan is a reporter for MLB.com. Read his blog, Postcards from Elysian Fields, and follow him on Twitter @Sullivan_Ranger. This story was not subject to the approval of Major League Baseball or its clubs.