Berkman returns, gets first DH at-bat in Houston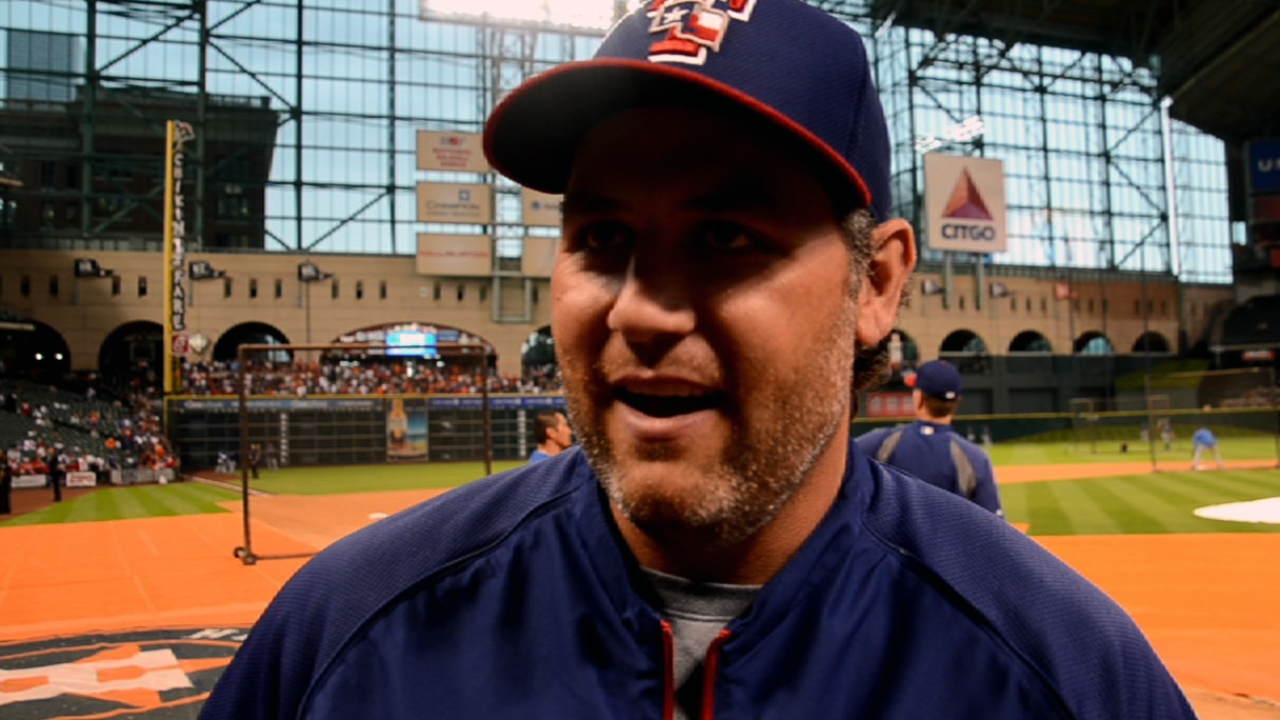 HOUSTON -- Lance Berkman was at Minute Maid Park in a season opener for the eighth time in his career, but this is the first time that he was playing against the Astros. Berkman spent 12 years with the Astros before being traded to the Yankees on July 31, 2010. He spent 2011-12 with the Cardinals before signing with the Rangers.
Sunday night marked the 10th game Berkman has played against his former team, and he still makes his home in Houston. He also made a little history as he was the first designated hitter to come to the plate in the former National League ballpark, grounding out to shortstop to end the top of the first inning.
Berkman got his first hit with the Rangers on a single in the fourth. He also singled and scored in the sixth, finishing 2-for-4 in the Rangers' 8-2 loss.
"It's always different coming back as a visiting guy," Berkman said. "I remember the first time with the Cardinals, I didn't know what to expect, I didn't know what kind of reception I would get. All of that is behind me. It's not that I don't get emotional still, but it's not as big as the first time."
The Astros traded Berkman to the Yankees at the beginning of what has been a massive rebuilding program. He had a no-trade clause that he exercised to stop trades to the Angels and White Sox before agreeing to the Yankees. Most fans did not hold it against him and he is usually well-received in his hometown.
"Very few circumstances where a player leaves a team is everybody happy," Berkman said. "It's almost never a good break. I felt a little animosity my last year here and I had no idea what the reception would be. I saw Billy Wagner and Carlos Beltran leave and come back and get booed. Nobody wants to get booed, especially in their hometown, but the reception has been great."
The Astros moved to the American League this season and there were some discussions about re-signing him as their designated hitter. But it never got very far.
"The Astros never made me an offer," Berkman said. "I never had a chance to accept or reject an offer. There was some genuine interest, but the Rangers had a higher level of interest. It made more sense for both sides to do it this way. It didn't make a lot of sense to spend a lot of money on a DH when they had other bigger needs."
T.R. Sullivan is a reporter for MLB.com. Read his blog, Postcards from Elysian Fields and follow him on Twitter @Sullivan_Ranger. This story was not subject to the approval of Major League Baseball or its clubs.