Berkman likely to be limited at Wrigley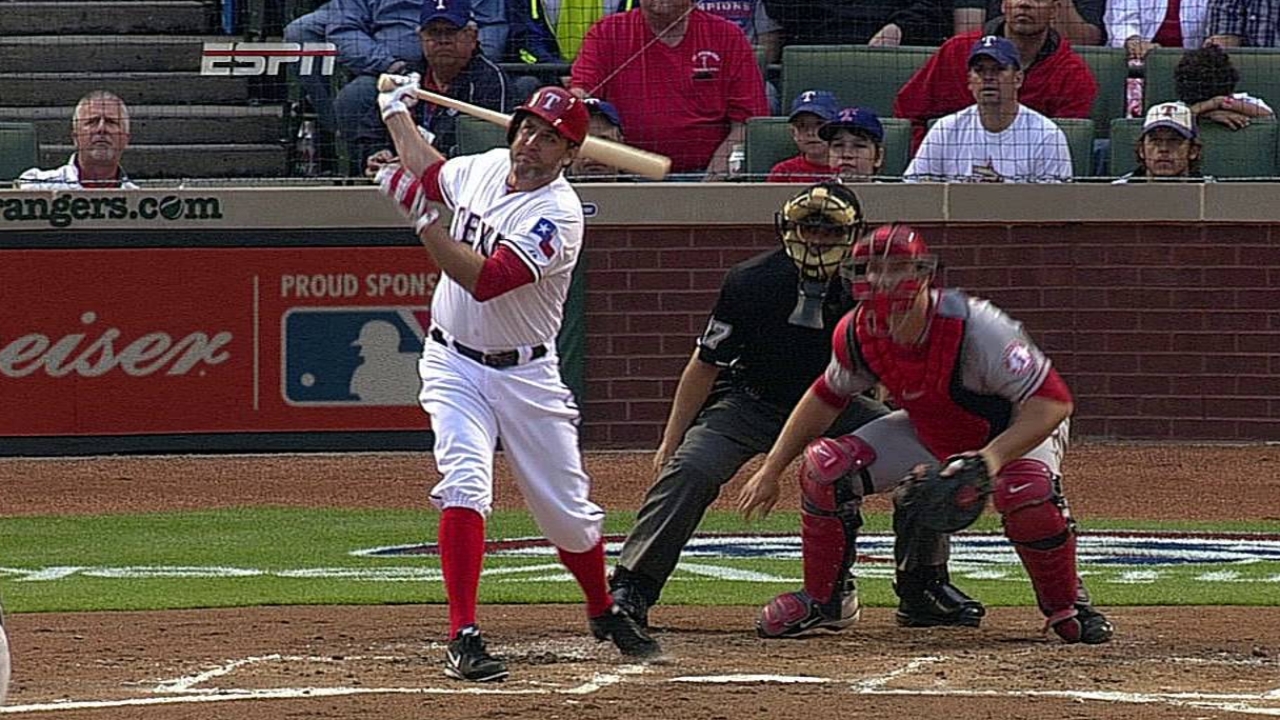 SEATTLE -- Designated hitter Lance Berkman is likely to be limited to pinch-hitting duty next week when the Rangers play a three-game series with the Cubs at Wrigley Field.
There will be no designated hitter used in the National League ballpark and the weather is expected to be bad. Temperatures could be in the 40s for all three games and rain is also in the forecast.
"The only thing I can say is we have to wait and see, but we're probably going to be very cautious in the cold weather with him," manager Ron Washington said.
Washington made it clear that Berkman will be used as a pinch-hitter if needed during the series that starts Tuesday. He didn't use Berkman as a pinch-hitter last Wednesday against the Rays, but that was a one-time thing on wanting to give him the entire day off.
"This is a National League park, everybody has to be available," Washington said. "I may shoot him one time in a game and then pinch-run for him if he gets on base. Maybe not, but it is certainly my intent to take care of him for those three games."
Berkman, who had two operations on his right knee last year, didn't have any trouble running on Thursday night during the Rangers' 4-3 victory over the Mariners. He made a big play in the fifth inning when he came to bat in a 2-2 game with runners on first and second and one out against Felix Hernandez. Berkman hit a ground ball right at first baseman Justin Smoak, who threw to second to get a forceout.
But Berkman kept the inning alive by beating the relay from shortstop Brendan Ryan. David Murphy followed with an RBI single and Nelson Cruz brought another run home with a double to give the Rangers a 4-2 lead. Washington called it the key play of the game.
"He's a pro," Washington said. "That's the way you play baseball and the way he's played baseball all of his career. He may have bad knees but he doesn't cheat the game. That takes an excuse away from guys who don't have bad knees and run better than he does."
Berkman didn't see it as being that big of a deal.
"What are you going to do, run back to the dugout after hitting a ground ball?" said Berkman, who also got thrown out in the seventh trying to stretch a double into a triple.
Berkman did admit that taking care of the knees in the cold weather is a concern for him.
"It has been an issue, but it hasn't prevented me from playing," Berkman said. "I just don't like it cold and wet and neither do my joints. Once I get going, I'm OK, but it's tough to start and stop. When I'm up and running, it's not too bad."
If Berkman were to be in the starting lineup, it would have to be at first base. But he played just two games there in Spring Training and none so far during the regular season. He's not expecting to play there in Chicago, but said he could if needed.
"I'll probably make an error for saying this, but if you can't catch a ground ball on Christmas morning, you don't deserve to be in the big leagues," Berkman said. "They can run me out there and I feel I can do an adequate job on short notice."
He's just not eager to look ahead at the challenge of battling the raw April weather in Chicago, especially at a 100-year ballpark that doesn't have a roof or the other amenities of Safeco Field in Seattle.
"Chicago is one of the worst places in baseball for just about everything, especially to get loose to pinch-hit or come into the game," Berkman said. "I'll be able to pinch-hit if Wash needs me to, but it's tough for an old guy who is three-quarters hurt. The cold and wet is not a good environment for a 25-year-old superstar, much less a post-mature buck like me."
T.R. Sullivan is a reporter for MLB.com. Read his blog, Postcards from Elysian Fields, and follow him on Twitter @Sullivan_Ranger. This story was not subject to the approval of Major League Baseball or its clubs.