Soria strains chest muscle, delaying rehab progress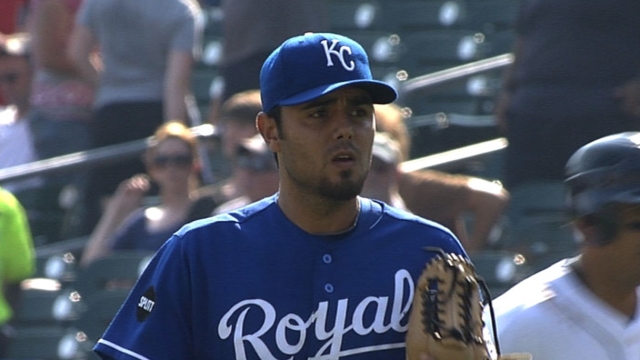 ANAHEIM -- Reliever Joakim Soria's return to the Major Leagues is going to be delayed at least another month.
Soria, who signed with the Rangers as a free agent in the offseason and is coming back from Tommy John surgery, strained a pectoral muscle on the right side of his chest and will be shut down from throwing for two to three weeks. The injury occurred last week while he was throwing live batting practice in Surprise, Ariz.
"We were hoping he would be back in late May, somewhere between May 15 and June 1," Rangers general manager Jon Daniels said. "Now we're looking more like July 1, maybe late June or early July. The silver lining, if there is one, is that it's completely unrelated to his arm and his elbow. It was one of those freak deals. It was his fourth or fifth live batting practice and it happened."
Soria spent five years as the Royals closer, saving 160 games in 2007-11 and being named to two All-Star teams. But he underwent elbow reconstruction surgery on April 3, 2012, and missed the entire season. Since it was his second Tommy John surgery, the Rangers were giving him extra time to come back. The Rangers had signed him in the hopes that he could eventually return as an eighth-inning setup man in front of closer Joe Nathan, and that is still the plan despite the setback.
"It's just another issue that we have to deal with," manager Ron Washington said. "Hopefully we can get this out of the way and when he finally gets here, he'll be ready to go."
The Rangers need all the healthy pitchers they can get, but their relievers went into Monday's game with the Angels with a collective 1.96 ERA, the lowest for a bullpen in the American League. Tanner Scheppers has been the Rangers' primary right-handed setup reliever and has not allowed a run in eight appearances.
T.R. Sullivan is a reporter for MLB.com. Read his blog, Postcards from Elysian Fields, and follow him on Twitter @Sullivan_Ranger. This story was not subject to the approval of Major League Baseball or its clubs.