Young hurlers showing promise in Rangers rotation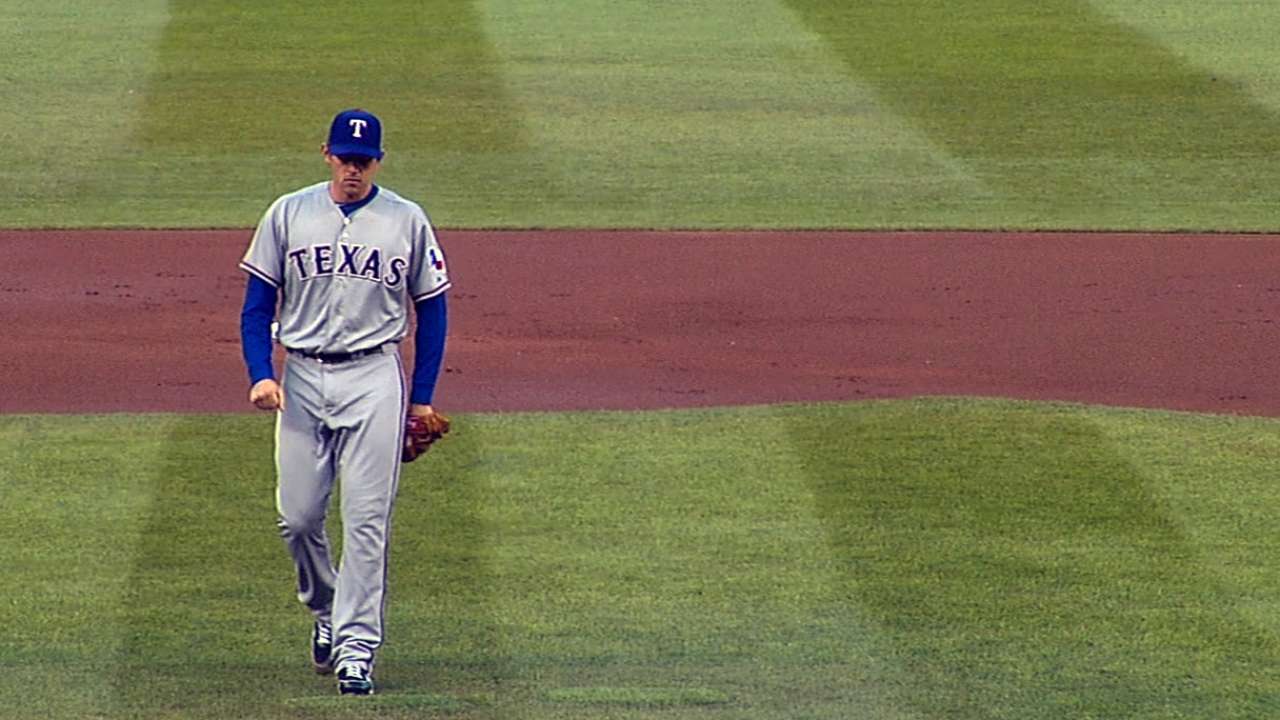 MINNEAPOLIS -- There's been very little letdown for the Rangers in the first month of the season.
An efficient 2-1 victory on Thursday in the first of a four-game series with the Minnesota Twins pushed the Rangers to their 15th win, maintaining one of the best starts in baseball (15-7). Having yet to lose a series this season, Texas is the only team that has not lost back-to-back games.
A surging pitching staff that has shown impressive depth in the season's early goings has rooted the Rangers' furious start. From ace Yu Darvish's near perfect game in the second game of the year onward, the Rangers have allowed three runs or fewer in 15 of their 22 games and hold the lowest ERA in the American League.
And they've done it with young starters Nick Tepesch and Justin Grimm, who entered the year with little to no big league experience.
But their lack of experience has barely shown. Both have provided tremendous stability on the back end of the Rangers' rotation, with a combined 2.60 ERA in five starts.
Grimm, who pitched in five games last season, has a chance Friday to further lower his 2.70 ERA in his third start since being called up in early April to fill injured left-hander Matt Harrison's spot.
His start comes one day after Tepesch carried a no-hitter into the fifth inning of his fourth career appearance en route to a one-run, five-hit performance Thursday against the Twins.
Manager Ron Washington has been measured with his responses when asked if he's surprised with how well his pitching staff has fared, given the youth that dots both the starting rotation and the bullpen.
"We had to give these guys a chance, and by giving them a chance, we had to set up a boundary or an atmosphere," Washington said Friday. "I don't care if you're young. You have to get it done. It's that simple …They're earning their stripes."
Grimm labored through his first start as he made it through only four innings at Seattle, despite only surrendering two runs. But Washington noticed Grimm was starting to establish a comfort level by the time his next start rolled around 10 days later. Facing Seattle once again, Grimm struck out nine Mariners batters in six innings while allowing just one run.
"I was telling him to quit fighting himself," Washington said. "He said, 'Yeah, I was out there competing against myself instead of Seattle.' So I said why don't you change that and start competing against Seattle. The location of his pitches were better ... He still got into some trouble, but he was still able to make a pitch to get out of it."
Nate Sandell is a contributor to MLB.com. This story was not subject to the approval of Major League Baseball or its clubs.