Baker put back in lineup after White Sox change plans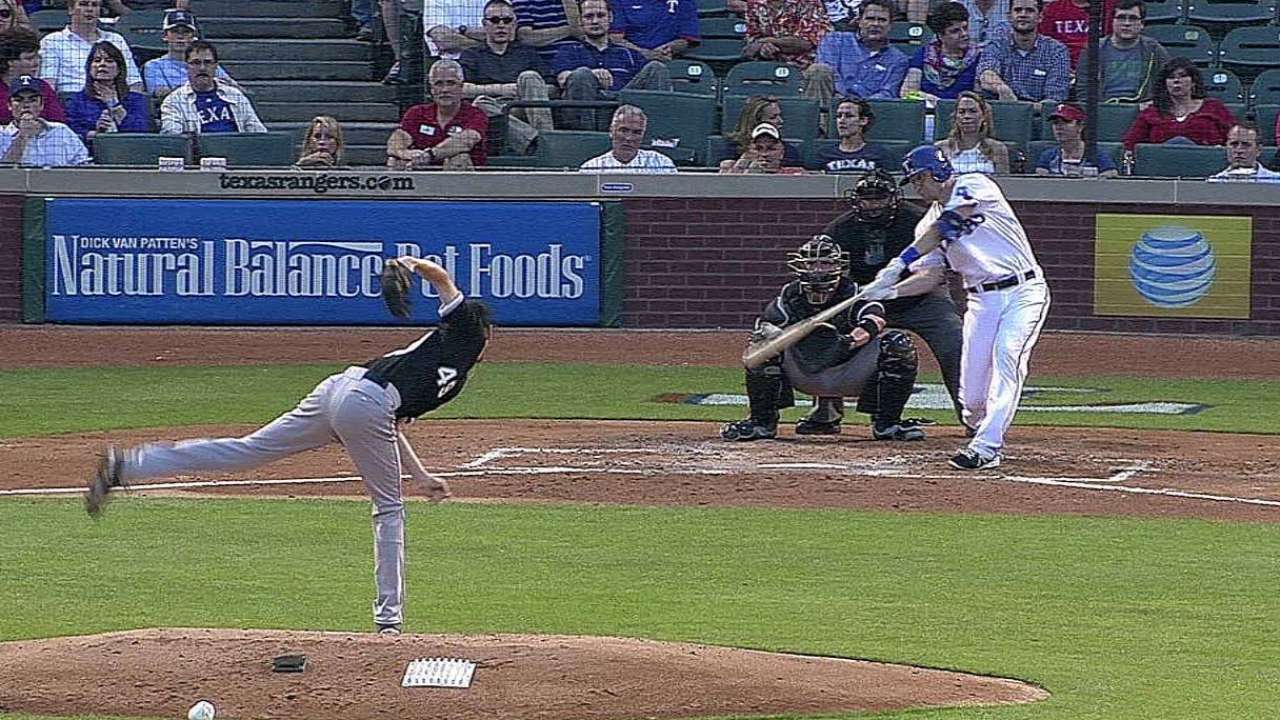 ARLINGTON -- The White Sox scratched right-handed starter Jake Peavy from Thursday's game because of back spasms and started left-hander Hector Santiago instead.
That move impelled Rangers manager Ron Washington to change his lineup. David Murphy was originally scheduled to start against Peavy, but Washington went with Jeff Baker in left field instead. Washington is keeping Baker's right-handed bat in the lineup against left-handers and right now Murphy is the one getting bumped.
"We have a right-handed bat that can hit left-handers," Washington said. "That's all it is. It's not a platoon. Murphy is still going to play against left-handers."
The arrangement is noticeable because the Rangers are facing a run of left-handers. Santiago is the fifth left-hander the Rangers have faced in the last six games and there are two more coming this weekend. The Red Sox are scheduled to pitch left-hander Felix Doubront on Friday, right-hander John Lackey on Saturday and left-hander Jon Lester on Sunday during their three-game series against the Rangers.
Baker went into Thursday's game hitting .444 (8-for-18) with three home runs against left-handed pitchers. He had home runs in back-to-back games on Tuesday and Wednesday for the fifth time in his career as he is taking advantage of the increased playing time of late.
"Any time you get to play a lot and get at-bats, it helps your timing and you can build off it," Baker said.
The only issue is his right knee. Baker bruised it in a game last week against the Angels in Anaheim and he is still recovering from his collision with the left-field stands. Washington has taken him out of the game defensively in the late innings of the last two games and will continue to do so until the knee is at least close to 100 percent.
"It's progressing … slowly, but progressing," Baker said. "You just go out and play with it."
The run of left-handers stops on Monday. The Rangers play a makeup game with the Cubs on Monday in Chicago and are scheduled to face right-hander Scott Feldman. The Rangers then play a two-game series with the Brewers on Tuesday and Wednesday.
The Brewers have an all right-handed rotation and right now the Rangers are scheduled to face Hiram Burgos and Wily Peralta. The Rangers will also face at least two right-handers during a three-game series with the Astros next weekend in Houston.
T.R. Sullivan is a reporter for MLB.com. Read his blog, Postcards from Elysian Fields, and follow him on Twitter @Sullivan_Ranger. This story was not subject to the approval of Major League Baseball or its clubs.