Washington: Rangers not seeking revenge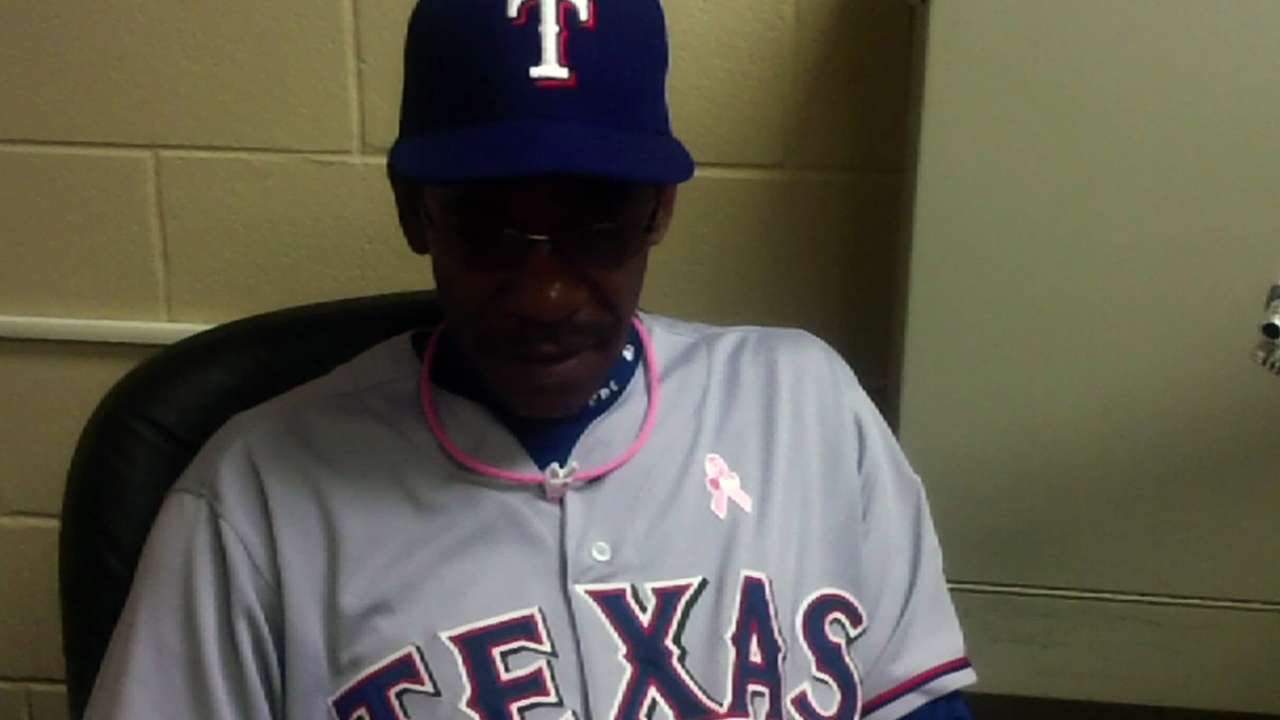 OAKLAND -- The Rangers made their first appearance at the Oakland Coliseum on Monday night since being swept by the Athletics in the final three games of the 2012 season. That sweep cost the Rangers a third consecutive division title, but manager Ron Washington said his team didn't come here seeking revenge.
"We're here to play baseball," Washington said. "They beat us last year. We understand that. We can't do anything about it. I'm not thinking about what happened here in the past. That's not what's fueling us. I'm just happy we're healthy and playing good baseball. If you play for revenge, you stop thinking about what's ahead. It's like frustration. You go blind."
The Rangers had a five-game lead in the American League West with nine to play before getting passed by the Athletics on the last day. This time the Rangers came to Oakland with a six-game lead in the division but with 125 games left to play.
"I don't look at the standings," Washington said. "If we keep doing what we're supposed to do, that will all take care of itself. The standings don't mean anything right now. Those guys were 13 games behind us last year. We just worry about today and the game we're playing."
The Athletics started off well but have struggled lately and the Rangers have been in first place since April 21.
"I think it's more about they're playing well and we haven't played as well coming into this series," Athletics manager Bob Melvin said. "We're home now, and we like to think this is a good place for us. They're probably playing better than we are now, but it's time to start playing better and turn the tables. There's probably no better team to play at this point to try to get things right than these guys."
Melvin said the Athletics can't rely on the dramatic turnaround they achieved last season.
"You don't want to fall back on that crutch, too, because then you say it's no big deal and find yourself 10 games back again," Melvin said. "To be able to duplicate that is difficult to do. We need to play with some urgency and put ourselves in position where we don't have to do that again."
T.R. Sullivan is a reporter for MLB.com. Read his blog, Postcards from Elysian Fields, and follow him on Twitter @Sullivan_Ranger. This story was not subject to the approval of Major League Baseball or its clubs.