Martin, Cespedes share common bond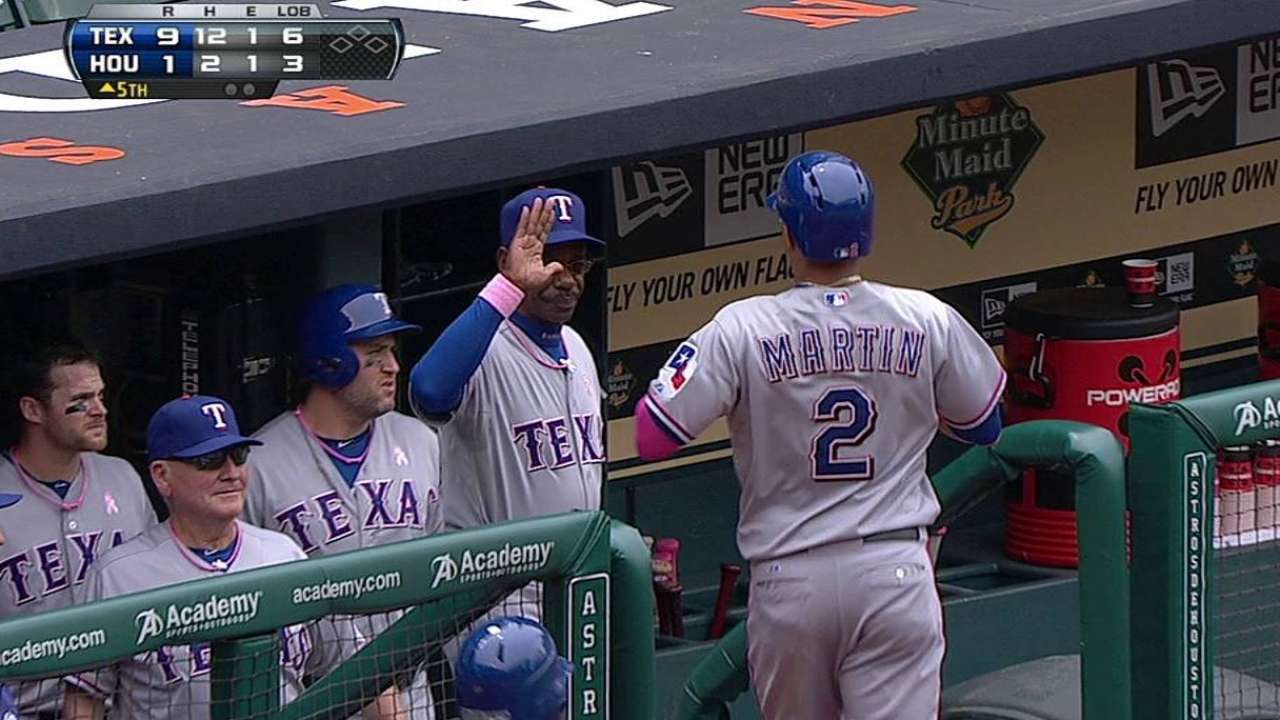 OAKLAND -- A trip to Oakland is extra special for Rangers outfielder Leonys Martin. It gives him a chance to hang out with Athletics outfielder Yoenis Cespedes. They are close friends and part of a wider fraternity of Major League players who defected from Cuba.
"We get along really well," Martin said. "I played with him in Cuba on the national team. He's a great friend and teammate. I talk to him a lot. When he came to Texas, we went out together and talked about the good old days in Cuba."
Cespedes is three years older than Martin and the more advanced player. He was the American League Rookie of the Year in 2012, when he hit .292 with 23 home runs and 82 RBIs. When they played together for Cuba in the 2009 World Baseball Classic, Cespedes was as a starter and Martin served as the fourth outfielder. Martin is in his first full season with the Rangers and is platooning in center with Craig Gentry.
"He's played a little bit longer than me," Martin said of Cespedes. "Whenever I needed it, he was always there to help me. I watch him. He's always engaged in the game and always plays hard. That's the kind of style that I want to emulate. I think he's the type of player who could be a superstar at the Major League level."
Cespedes left Cuba in the summer of 2011 and signed with the Athletics on Feb. 13, 2012. Martin left Cuba in 2010 and signed with the Rangers on May 1, 2011. They are two of 15 players in the Major Leagues who were born in Cuba and had to defect the Communist-controlled country so they could play at the highest level of the sport.
"Being able to talk to him and other Cubans in the big leagues has really helped me a lot." Martin said. "Not only do we talk about what we're doing in the big leagues but also about things back home. It's like a fraternity we have in the big leagues. We're all good friends.
"We all had a difficult decision to make. None of them made me leave the country, it was only my decision. It was a difficult decision. All my Cuban friends made the same decision; it was huge and difficult process to get here."
T.R. Sullivan is a reporter for MLB.com. Read his blog, Postcards from Elysian Fields, and follow him on Twitter @Sullivan_Ranger. This story was not subject to the approval of Major League Baseball or its clubs.