Moreland looks to maintain month-long streak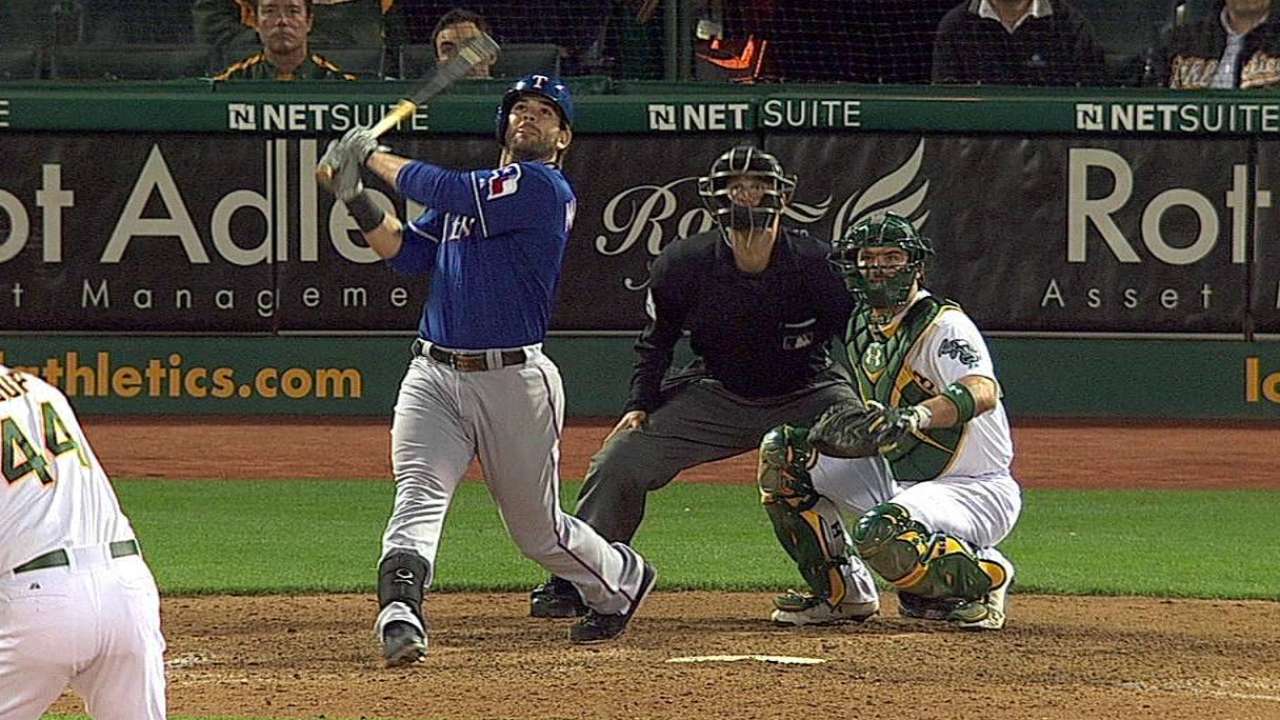 OAKLAND -- Mitch Moreland's two home runs on Tuesday night give him six for May. That's the most in the American League. He is hitting .347 with a .796 slugging percentage, which is also the highest in the league. Overall, Moreland is hitting .296 with nine home runs, 18 RBIs and a .547 slugging percentage.
"I'm just going up there trying to have good at-bats and get a good pitch to hit," Moreland said. "I've been able to do that so far, hopefully I can keep doing it. If you stay with your approach and work at getting a good pitch and get the barrel to it, the home runs will come. It's not something you try to do. Not many guys go up to the plate trying to hit home runs and actually do it."
The next step for Moreland is to increase his RBI production. He is hitting .200 with runners in scoring position and while he is one of 15 players with at least nine homers, he is tied for 38th in the league with 18 RBIs. Of the 15 players with at least nine home runs, Moreland is one of two who have not driven in at least 20 runs.
"When you get guys on base, it's easy to put more pressure on yourself to get the job done," Moreland said. "But we've got guys like [Adrian Beltre and Nelson Cruz] who come up big for us. I just want to help out a little bit ... keep grinding out those at-bats."
Moving up in the lineup should help, but it may be a temporary promotion. Moreland started the season at the bottom of the order, but he has moved into the middle of the lineup with A.J. Pierzynski on the disabled list and David Murphy just now starting to overcome his slow start. Moreland has batted either fifth or sixth in nine straight games. He did not bat higher than seventh through May 5, which was Pierzynski's last game before being retroactively placed on the disabled list.
Manager Ron Washington said Pierzynski will move ahead of Moreland in the batting order when he returns. Washington said the big factor is Pierzynski's experience.
"When Pierzynski comes back, Mitch will drop down to where I feel he fits, even with his hot streak," Washington said.
T.R. Sullivan is a reporter for MLB.com. Read his blog, Postcards from Elysian Fields, and follow him on Twitter @Sullivan_Ranger This story was not subject to the approval of Major League Baseball or its clubs.