Kinsler out of lineup; Murphy hits second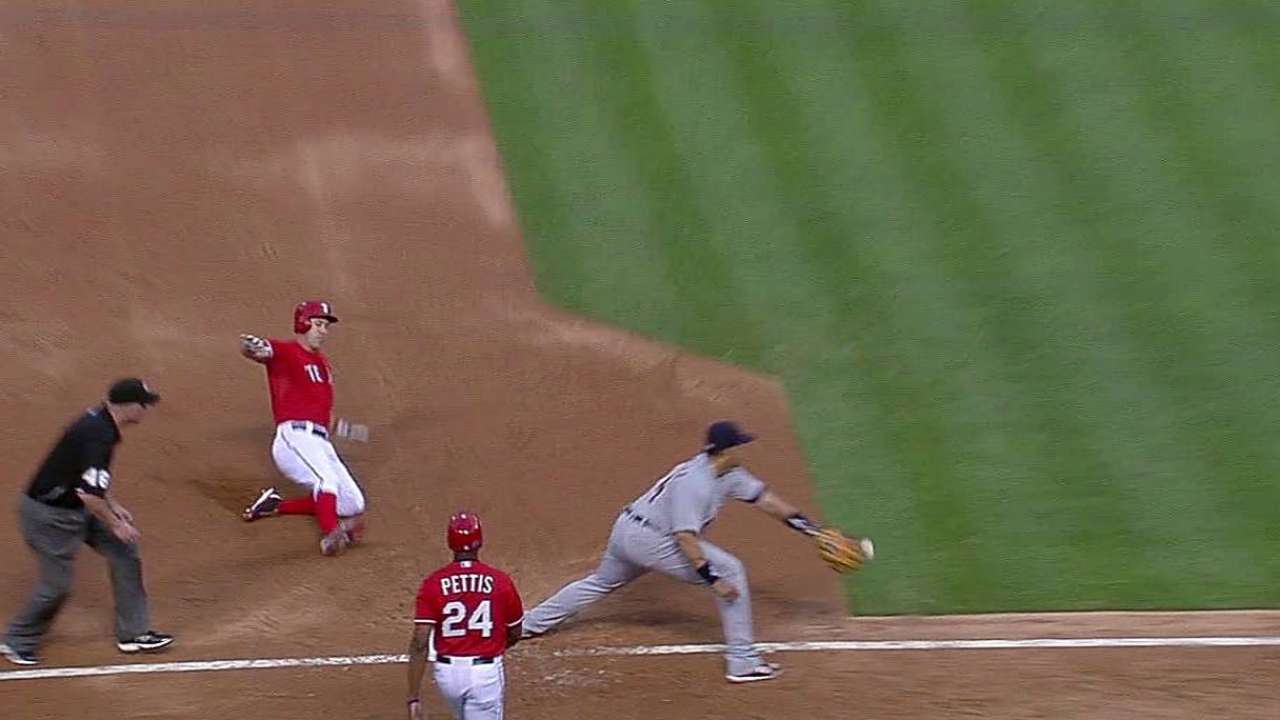 ARLINGTON -- Ian Kinsler was out of the Rangers' lineup for the second straight game with sore ribs Saturday night and with Elvis Andrus bumped up into the leadoff spot again, manager Ron Washington made the surprising move of inserting struggling left fielder David Murphy into the No. 2 spot in the batting order.
Washington said Kinsler is available to run or play defense but still feels discomfort when he swings the bat.
"He's still a little tender," said Washington, who used Kinsler as a pinch-runner in the ninth inning Friday night. "We'll give him another day and reassess [Sunday]."
Kinsler wasn't in the clubhouse or on the field before the game.
Washington is hoping that Murphy will respond well to a move up in the order. The left fielder has been showing signs of improvement lately by going 11-for-33 (.333) in his last 12 games to lift his average from .168 to .211.
"I just wanted to see if we could get him up there and get him more involved, not sitting around, waiting to go up there and get an at-bat and maybe trying too hard," Washington said.
Murphy, Washington said, is a guess-hitter who's been guessing wrong more often than usual this season.
"Hopefully it'll work, but the bottom line is, David's got to get himself going," Washington cautioned. "If there was anything we could do, we'd have got it done already. This falls in David's hands.
"If we could pinpoint the answer, he wouldn't be going what he's going through. Sometimes players have to figure it out on their own by just being out there, and we're putting him out there."
Murphy went 0-for-4 with a walk, an RBI and a run scored in Saturday's 7-2 victory.
Jim Reeves is a contributor to MLB.com. This story was not subject to the approval of Major League Baseball or its clubs.