Andrus the agitator given a breather Sunday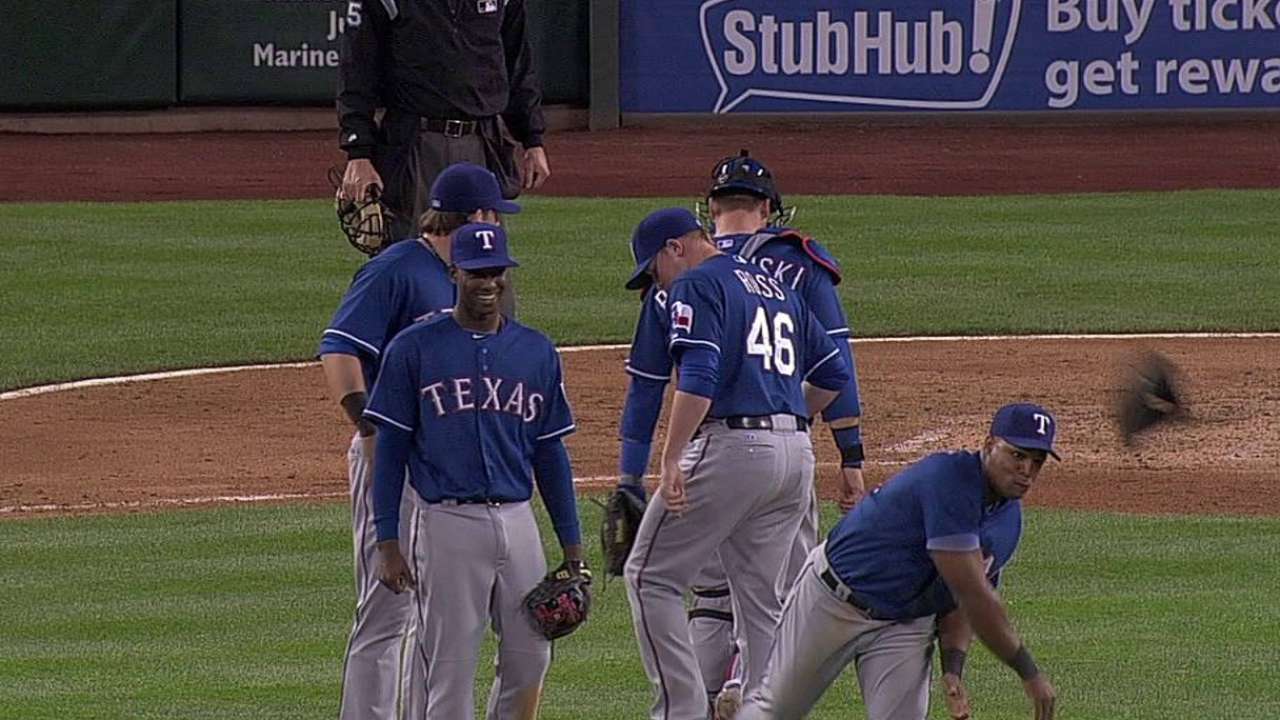 SEATTLE -- Elvis Andrus had the day off on Sunday. Maybe it was to give third baseman Adrian Beltre a break as well.
Andrus and Beltre were all over each other during Saturday's 5-2 victory over the Mariners, especially during the seventh-inning pitching change. While Robbie Ross ran in from the bullpen, Beltre chased Andrus back to his position and threw his glove at him.
Ross then got Kyle Seager to pop up on the first pitch. The ball came down just behind and to the left of the pitching mound. That should have been Andrus' ball but Beltre called him off. When Andrus still went for the ball, Beltre shoved him away. Andrus scattered to the other side of the mound while Beltre made the catch.
"Elvis just likes to aggravate Beltre," Washington said. "The shortstop is supposed to have priority but Beltre literally threw him out of the way. Beltre made sure that ball wasn't going to drop. But Andrus just likes to aggravate Beltre. He's an agitator."
This was only the third time in the first 50 games that Andrus was out of the starting lineup. Leury Garcia started the two previous times Andrus was out of the lineup but Jurickson Profar made his first start at shortstop on Sunday.
Beltre was in the lineup even though he took a wicked foul ball off his left knee in an eighth-inning at-bat on Saturday night. Said Washington, "With Adrian, he's better when he's limping."
T.R. Sullivan is a reporter for MLB.com. Read his blog, Postcards from Elysian Fields, and follow him on Twitter @Sullivan_Ranger. This story was not subject to the approval of Major League Baseball or its clubs.