Odd injury sidelines Rangers' Baker
Odd injury sidelines Rangers' Baker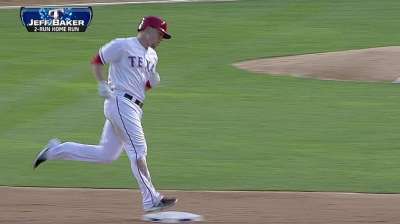 ARLINGTON -- The injury bug has not stopped its rampage through the Rangers' roster. This time it got to Jeff Baker, who was out Friday against the Blue Jays because of a sprained right thumb he sustained during a celebratory high-five.
File this one under the "Baseball's Most Bizarre Injuries" category.
"Yeah, I'm not too happy about it," Baker said.
Baker said the injury occurred during pregame activities Thursday. He did not reveal the name of the teammate who injured his hand, but Baker said the player was "a little overexcited for some reason" and bent his thumb back to his wrist.
"Obviously [the teammate] feels bad about it, but it is what it is," Baker said.
Baker said he could not grab a bat because of the swelling. He did not have an MRI exam on his thumb as of Friday's game.
"I do not know how it's going to work," Baker said. "I'm just going to get treatment each day and go from there and see how it feels."
While Baker's injury is one of the strangest this season in baseball, he joins a lengthy list of injured Rangers this season. The team has eight players on the disabled list not including players who are playing through injuries like Nelson Cruz and Adrian Beltre.
"I might have to sign a dollar contract," Rangers manager Ron Washington said.
"When it rains, it pours," general manager Jon Daniels said. "We're a little banged up, and a freak deal like that happens. We'll push through the other stuff, and I'm sure he'll push through this as well.
Baker hit 12-of-39 with five home runs and nine RBIs in his last 13 games. Chris McGuiness started at first base in his absence against left-handed pitcher Mark Buehrle. It is one of four lineup changes for the Rangers. David Murphy and A.J. Pierzynski got the day off. Leonys Martin started in left field despite a mild sprained left wrist injury he sustained during Thursday's game, and Geovany Soto started at catcher. Jurickson Profar led off the lineup and started second base, while Elvis Andrus hit second at started at shortstop.
Master Tesfatsionis an associate reporter for MLB.com. This story was not subject to the approval of Major League Baseball or its clubs.