Andrus ejected for disputing third strike call
Andrus ejected for disputing third strike call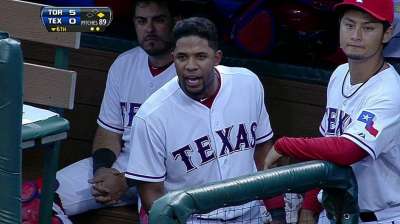 ARLINGTON -- Rangers shortstop Elvis Andrus was ejected in the sixth inning of Friday's game against the Blue Jays at Rangers Ballpark for arguing a strike three call.
After striking out against Toronto left-hander Mark Buehrle, Andrus turned around and argued with home-plate umpire Eric Cooper. Following a brief discussion, Andrus walked to the Rangers dugout. Cooper ejected Andrus as the shortstop stood on the steps of the dugout, then received an earful from Rangers manager Ron Washington.
"He said the wrong thing to the umpire out in the dugout," Washington said. "I tried to get in front of him, but I didn't make it."
It was Andrus' second career ejection. Jurickson Profar shifted from second base to shortstop in the seventh inning and Leury Garcia entered the game at second base. Garcia hit second in the lineup to replace Andrus.
Master Tesfatsionis an associate reporter for MLB.com. This story was not subject to the approval of Major League Baseball or its clubs.