Wolf not seeing much action as long man in 'pen
Wolf not seeing much action as long man in 'pen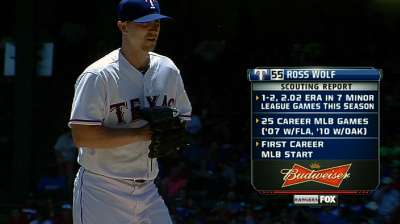 ARLINGTON -- Ross Wolf hasn't pitched in nearly two weeks. For the Rangers, that's probably a good thing. Wolf threw two-thirds of an inning against the Blue Jays in his last outing on June 15.
"I understand my role as the long guy," Wolf said. "The last 10 days we've had close games, and that's what those guys are for. I have no control over it. Whenever [manager Ron Washington] calls on me, I'll be ready."
Wolf said he threw about 25 pitches in a bullpen session Wednesday in New York. Washington wanted to use Wolf Thursday to pitch an inning or two, but Derek Holland threw a shutout against the Yankees. Wolf is 1-1 with a 1.47 ERA in eight games (one start).
"That's the role of a long man," Washington said. "With the games we've been playing the last nine, 10 days, it's been [Robbie] Ross, [Tanner] Scheppers and Joe [Nathan]."
Master Tesfatsion is an associate reporter for MLB.com. This story was not subject to the approval of Major League Baseball or its clubs.