Soria to pitch on consecutive days
Soria to pitch on consecutive days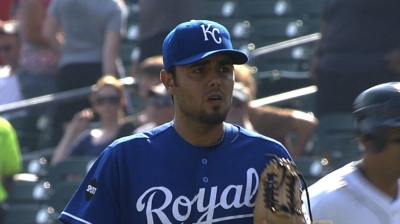 ARLINGTON -- Joakim Soria is scheduled to pitch in consecutive games with Double-A Frisco starting Wednesday.
Soria, rehabbing from Tommy John surgery, could join the Rangers next week during their seven-game road trip before the All-Star break. The right-hander has pitched five shutout innings, allowing just one hit while striking out seven and allowing one walk, in five Minor League appearances. His return could help ease the heavy load of Robbie Ross, Tanner Scheppers and Joe Nathan out of the bullpen.
"We'll take it day by day, but he's not far off," Rangers general manager Jon Daniels said.
Soria said he's close to getting all of his velocity back. He said his command has been good during his rehab appearances, including on all of his breaking balls.
"I've been feeling really good," Soria said. "Every single outing I've been throwing the ball good. My command is good, and from now on it just depends on how it goes everyday, and then they'll decide the next step."
Matt Harrison plans to get on the mound after the All-Star break. He threw 25 pitches from 120 feet on Tuesday, and he plans to throw from that distance again on Wednesday. Harrison started throwing from that distance Saturday and took Monday off. Harrison said he'll stretch out to 200 feet, at the most, in the next two weeks.
Alexi Ogando will throw a live batting practice session on Wednesday. Barring any setbacks, the club plans to send Ogando out for a rehab assignment this weekend.
And Colby Lewis threw 37 pitches in his bullpen session on Tuesday. He's scheduled to throw another bullpen Thursday.
Master Tesfatsionis an associate reporter for MLB.com. This story was not subject to the approval of Major League Baseball or its clubs.