Red-hot Martin to remain low in Rangers' lineup
Red-hot Martin to remain low in Rangers' lineup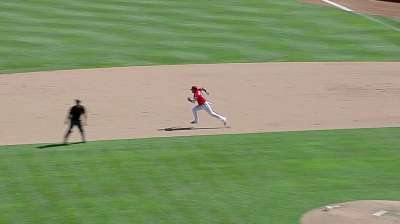 ARLINGTON -- Leonys Martin has been the Rangers' hottest hitter in the last month. He extended his hitting streak to 15 games Tuesday, the longest by a Ranger this season.
"He's been hitting the ball in the gaps," Rangers manager Ron Washington said. "Right now, he's not missing his pitches when they're giving it to him. I think when you have a hitting streak, that's what happens. He's putting them in play. His bunts have been keeping him afloat also."
His hitting streak has occurred while in the eighth or ninth spot in the lineup, and Washington doesn't have plans to change his spot in the order.
"There's nowhere else I can move him," Washington said. "He's going to stay there. I'll move him at some point maybe if someone at the top is out and I think he can fit in there, but right now he's doing a good job there. I'm not going to mess with it."
Along with his hitting streak, Martin became the third Ranger ever with steals in five consecutive games Tuesday. He's tied with the third-longest steals streak in the Majors this season, as Martin has successfully swiped 15 straight bases without getting caught.
"He's doing a good job picking it up," Washington said. "He's running the bases with reckless abandon. You can see how reckless he was last night."
Master Tesfatsion is an associate reporter for MLB.com. This story was not subject to the approval of Major League Baseball or its clubs.