Rare blip on the radar for dominant Cotts
Rare blip on the radar for dominant Cotts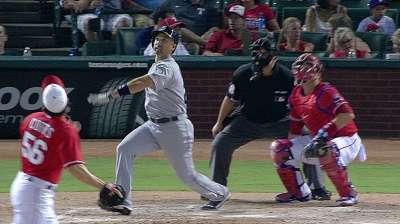 ARLINGTON -- Left-hander Neal Cotts proved he can be hit Thursday on the heels of Tanner Scheppers and Robbie Ross doing the same.
Cotts didn't record an out against four batters in the seventh inning against the Mariners. He gave up two runs on three hits, throwing 24 pitches as he allowed a two-run shot to Raul Ibanez.
"He faced some good hitters, and Ibanez didn't miss," Rangers manager Ron Washington said.
Cotts threw 11 scoreless innings with 15 strikeouts his previous nine times out and didn't allow an earned run in his last 14 outings (15 1/3 innings pitched). His 1.14 ERA is the best in the Rangers' bullpen.
He received the club's Player of the Month honors for June, along with closer Joe Nathan. He became the seventh reliever in club history to win as many as four games in a single month. Cotts went 4-1 with a 0.59 ERA in 15 games in June.
"Some days it might fall where it just doesn't work," Cotts said. "You just try to make good pitches. Hitters are good, they'll get you some days. I feel like my chances are as good as anybody if you're aggressive and command the ball."
Master Tesfatsion is an associate reporter for MLB.com. This story was not subject to the approval of Major League Baseball or its clubs.