Slumping Andrus drives in run out of eight-hole
Slumping Andrus drives in run out of eight-hole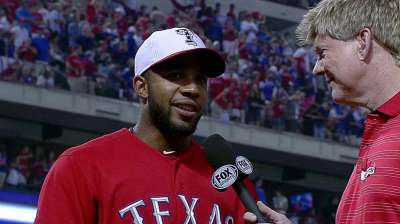 ARLINGTON -- Rangers manager Ron Washington dropped Elvis Andrus to eighth in the lineup Thursday to give the shortstop a little break. Andrus went 1-for-2 with a go-ahead sacrifice fly in the seventh inning of a 5-4 win. He now has an RBI in five of the six games on the Rangers' homestand.
Andrus went 0-for-5 in Wednesday's loss to Seattle, but hadn't hit anywhere other than first or second in the lineup since April 17, 2010, when he hit ninth.
"He's been struggling for quite a while," Washington said before the game. "I just want to take a little pressure off him."
Andrus said he's pulling too much because he hasn't seen the ball well. He's hitting .199 (31-of-156) with just two extra-base hits in the last 40 games, dropping his batting average from .282 to .243.
"I'm not the guy that goes deep in the stands," Andrus said. "I just need to put a good swing on it. When you see me hit that many ground balls, especially to third base, shortstop, something is wrong."
Andrus said he knows the adjustment he must make in his swing and he's worked in the cages with hitting coach Dave Magadan to fix the issue.
"[Pitchers are] going to throw a lot of breaking pitches ahead in the count and try to keep the ball," Andrus said. "I know how they're going to pitch me. I really think it's just a small adjustment I have to make to let the ball travel more."
Washington put David Murphy second in the lineup because he's hit in the spot previously this season. Murphy went 0-for-4.
Master Tesfatsion is an associate reporter for MLB.com. This story was not subject to the approval of Major League Baseball or its clubs.