Washington considers Nathan a lock for All-Star nod
Washington considers Nathan a lock for All-Star nod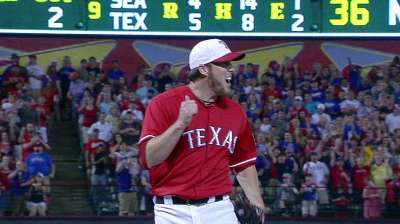 ARLINGTON -- Rangers manager Ron Washington thinks closer Joe Nathan is a lock for the All-Star Game. While Washington isn't the American League manager for the Midsummer Classic, Nathan has been one of the best first-half closers in the league.
Nathan recorded his 28th save Thursday for the most in franchise history before the All-Star break. He's tied for second in the Majors in saves entering Friday's game, trailing Orioles closer Jim Johnson. Of his 28 saves, 14 have come in one-run wins.
"He's been needed very much," Washington said. "He's taken on a much heavier workload than he has in the past, at least with us. He's answered the bell each time. That's why he has as many saves as he has. It may not be in the fashion you would like to see, but the bottom line in the end is it gets done."
He hasn't had the best stuff in his career, but Nathan said he's compensated with his aggressiveness and command. Nathan credited the club for implementing a plan to keep him strong and rested when needed. He's allowed a .156/.220/.234 slash line, the only reliever with more than 20 appearances to have figures that low in all three categories.
"I've gotten more comfortable throwing breaking balls to both sides of the plate and not just having a hitter sit on one side of the plate with a certain pitch," Nathan said. "I've picked up a lot along the way and location is key."
Master Tesfatsion is an associate reporter for MLB.com. This story was not subject to the approval of Major League Baseball or its clubs.