Perez's determined outing impresses Washington
Perez's determined outing impresses Washington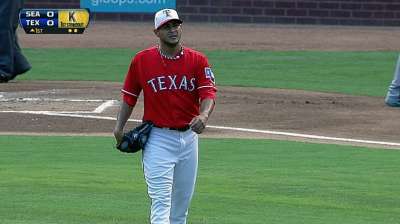 ARLINGTON -- Martin Perez wasn't sharp Thursday, but he managed to limit the damage against the Mariners to only one unearned run in 5 1/3 innings. Perez allowed runners to reach scoring position every inning except the first as Texas rallied late to win, 5-4. He benefited from his defense making plays behind him, including a double play with the bases loaded in the second.
"Usually after the third time, that's it; but he was able to make pitches when he had to," manager Ron Washington said. "Those double plays helped him out a lot. He got challenged, and in my opinion, he rose to the challenge. You certainly don't want to see any pitcher have to work as hard as he had to get to the sixth inning, but he did it. He only gave up one run doing it."
Perez had a chance to escape the sixth inning, but Ian Kinsler's error on an attempted double play ended his start. Perez said he missed the zone with his fastball in the first three innings, leading to 87 pitches. He was able to keep the Rangers in the game, and they improved to 3-0 since Perez was recalled from Triple-A Round Rock.
"When I'm good, and like I talked with [Yu] Darvish, when I have my fastball that day, they don't have a chance," Perez said. "But it's part of the game. I just have to continue to do my job and make the adjustments."
Master Tesfatsion is an associate reporter for MLB.com. This story was not subject to the approval of Major League Baseball or its clubs.