Harrison, Lewis inching closer to Rangers
Harrison, Lewis inching closer to Rangers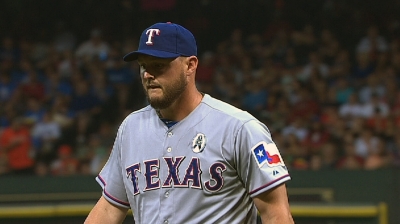 ARLINGTON -- The Rangers could have an influx of starting pitching by the end of the season if Matt Harrison and Colby Lewis continue to progress.
Harrison, who threw 60 pitches during his bullpen session on Monday, will throw batting practice for the first time on Wednesday. The left-hander said the soreness stemming from the herniated disc in his lower back felt better after Tuesday's session than after Saturday's. The doctor who performed Harrison's surgery told the lefty everything was normal after Tuesday's activity and that Harrison was clear to proceed at full speed.
"It definitely gave me a sense of where I'm at," said Harrison, who feels he's a week ahead of schedule and may be able to return at some point in mid-August.
Lewis, recovering from surgery to repair a torn tendon in his right elbow, allowed three runs on five hits in three innings for Double-A Frisco on Monday in his second rehabilitation start. The right-hander walked two and struck out three, throwing 33 of his 56 pitches for strikes. Lewis felt his command was better in his second rehab start, but he still has to get to a point where he's mechanically sound. With Frisco out of town, Lewis aims to pitch his third rehab start with Triple-A Round Rock this weekend.
"I think I'm just building up arm strength still and definitely have got to start limiting pitches per inning and trying to get quicker outs," Lewis said. "I think that's going to come when my command starts to get a little bit better. I feel like it was a little bit better, especially warming up in the bullpen and getting ready for the game. It's slower than I anticipated, but it's coming."
With this week's acquisition of right-hander Matt Garza from the Cubs and the return of Yu Darvish and Alexi Ogando from the disabled list, the Rangers could theoretically have seven quality starters to use down the stretch and into a possible playoff run, including lefties Derek Holland and Martin Perez.
"The tide has turned, in a sense that we're getting these arms back," Rangers manager Ron Washington said. "We get these arms back, now they've just got to go out there and perform. If we can keep them all healthy going down the stretch here, I think we're going to be OK. In the meantime, I think we kept things in a position where we can be in the running if we can continue to play the way we can pitch and stay healthy."
Master Tesfatsion is an associate reporter for MLB.com. This story was not subject to the approval of Major League Baseball or its clubs.