Amid investigation, Washington backs Cruz
Amid investigation, Washington backs Cruz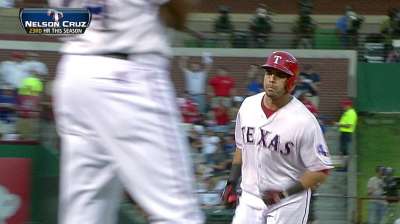 ARLINGTON -- Manager Ron Washington said the Rangers clubhouse will embrace Nelson Cruz regardless of the outcome of Major League Baseball's investigation into his involvement with the Miami-area Biogenesis clinic that allegedly provided certain players with performance-enhancing substances.
"That's all we do around here, is support, and we support Nelson," Washington said. "We can't do anything about his circumstance, but we support him. Until Major League Baseball decides what they want to do, I don't think about it. I'll put his name in my lineup. Until I get word that I can't put it in there, I'll put him in there."
The Rangers haven't received any information on Cruz's case. Washington said he feels the right fielder has handled the situation appropriately.
"I don't know what he's going through because I've never been in that situation, but I think he's handled it admirably," Washington said. "I think he's been a pro, and he has been able to separate what he has done [for] his job, which is come to the ballpark and play baseball, and what he's done out of here. He's done a good job of separating."
The Rangers currently have seven players who can play the outfield, including Jurickson Profar and Jeff Baker. Cruz, who hit his 23rd home run in Monday's 3-0 win over the Yankees, has been the most consistent hitter for the club this season, and his absence due to a suspension would be a significant blow to the lineup.
"[An announcement] hasn't come to the Texas Rangers yet, so we're just worried about today," Washington said. "That's all we can do."
The Rangers skipper said he doesn't have a right to judge Brewers outfielder Ryan Braun for violating the league's Joint Drug Prevention and Treatment Program. On Monday, MLB suspended Braun, who has also been tied to the Biogenesis clinic, for the remainder of this season.
"Major League Baseball, I think, is doing a fantastic job trying to clear it up," Washington said. "The players have already said that they want it straightened out, and this is one of the consequences for a guy that's a star player, and he has to pay. I think [Braun] has to answer that. I can't sit here and try to bash him or anything like that. He made a mistake, and Major League Baseball has a penalty for it. He'll pay his penalty, and then he'll be reinstated back into baseball."
Master Tesfatsion is an associate reporter for MLB.com. This story was not subject to the approval of Major League Baseball or its clubs.