Garza focused on present, not free agency
Garza focused on present, not free agency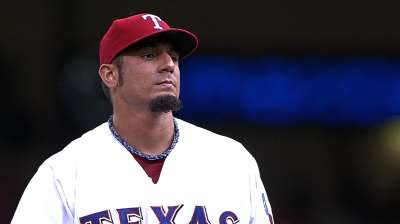 ARLINGTON -- In winning Wednesday night's start, his first since being acquired from the Cubs on Monday, Matt Garza showed a glimpse of the value he can provide the Rangers during a possible postseason run, and the right-hander clearly knows his role this season.
But what about next season? Garza's contract expires at the end of the year, and the club wouldn't receive a compensatory Draft pick if it can't re-sign Garza in the offseason.
"I couldn't be more happy being in a place where I'm at, a place where i'm wanted, been wanted," said Garza, who has played for three teams in the last four years. "It's awesome. I've been traded three times now, and I'm going to go out there and do my job."
Garza said the Rangers' clubhouse has embraced him since he arrived on Tuesday. General manager Jon Daniels said on Monday that he'll revisit the subject of re-signing Garza when the offseason arrives. He's hoping the desire for a new contract will be mutual between the Rangers and Garza, but the club still has Alexi Ogando and Martin Perez under control for the next few years. Texas has signed left-handers Derek Holland and Matt Harrison to extensions in the last two years, and ace Yu Darvish is locked up until 2018. Right-hander Colby Lewis signed a one-year deal in the offseason and is currently recovering from Tommy John surgery he underwent last July.
"Yeah, who doesn't?" Garza said when asked if he wants to settle down with one team. "But right now, I've just got to stay focused for every five days. That's it. I love Texas. ... My main goal right now is to help this team get to October, and everything else will fall into place."
Master Tesfatsion is an associate reporter for MLB.com. This story was not subject to the approval of Major League Baseball or its clubs.