Beltre not pleased with his performance
Beltre not pleased with his performance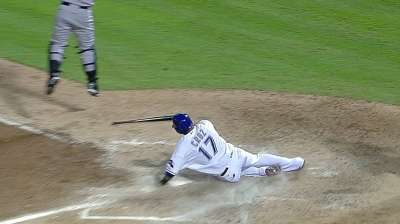 CLEVELAND -- Rangers third baseman Adrian Beltre is not happy with the way he has performed. He said the problem is not physical even though he deals daily with various leg issues that keep him from running full speed.
"I'm physically good enough to play," Beltre said before Friday's game against the Indians. "I have been feeling the same all year."
Beltre's overall numbers aren't bad. He went into the three-game series with the Indians hitting .308 with 22 home runs and 58 RBIs. But he's not happy that he was hitting .217 with runners in scoring position.
"I'm not contributing the way I should," Beltre said. "The whole team is in a funk not getting the big hit and the big blame is on me. I haven't been good in situational hitting. I'm in the middle of the lineup, I need to be producing more and I haven't been doing that."
Beltre is also not happy with his defense. He went into Friday's game with 11 errors, three more than last year and equal to his total over 112 games in 2011. His range factor of 2.32 chances per nine innings is the lowest of his career. He also had committed an error in two straight games.
"My defense has not been great," Beltre said. "I don't have the answer. I'm missing balls I should get and I've got some errors that I have no excuse for. I'm not playing well."
Rangers manager Ron Washington attributed some of that to Beltre's legs.
"He may be a little slow at third base because of his legs," Washington said. "If you don't get time down you're not going to get totally well. But he still shows up and he's still playing."
Offensively, Washington said Beltre is putting too much pressure on himself, especially with the whole offense struggling.
"I've always put pressure on myself," Beltre said. "I want to be the guy to help my team. When I'm not doing enough, I'm not going to be happy."
T.R. Sullivan is a reporter for MLB.com. Read his blog, Postcards from Elysian Fields, and follow him on Twitter @Sullivan_Ranger. This story was not subject to the approval of Major League Baseball or its clubs.