Berkman battling to return amid trying season
Berkman battling to return amid trying season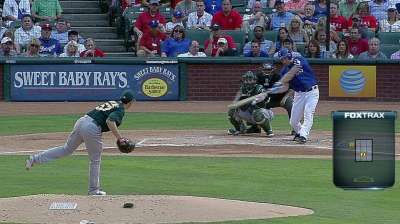 ARLINGTON -- Lance Berkman said he needs to make a decision soon on whether he can get back on the field for the Rangers or if he needs to head back home to Houston. The prospects aren't good for his return, although he is still trying to come back.
He tried to run Tuesday and said it didn't go well. He did take batting practice in the cages and will try again on Wednesday.
"I'm literally taking it one day at a time," Berkman said before Tuesday's game with the Angels. "I'm going to hit today and see if it feels good tomorrow. I feel like these guys invested in me, and I'd like to give them some return on their investment."
Berkman is on the disabled list with inflammation in his left hip but is also dealing with a chronic sore right knee that underwent two operations last year. Berkman went on the disabled list hitting .254 with six home runs, 34 RBIs and a .377 slugging percentage. He entered the season with a career slugging percentage of .544.
"Running is the main thing but the mechanics of my swing are not in a good place because of the knee," Berkman said. "I've not been able to put myself in a position to hit the ball with authority. I'm trying to figure out a way to generate bat speed and power. If I can't do that, it limits my effectiveness."
That's why he's considering the possibility that it's time to walk away from the game.
"You've got to fish or cut bait," Berkman said. "It's getting to that point quickly. You don't want it to linger. It comes to a point where you have to make a decision and say yeah or nay. ... I need to be headed out on a rehab assignment soon or strongly headed toward being on the field or headed back home to Houston.
"It's not a good place to be. I've got to figure something out for the team and myself."
Berkman, 37, signed a one-year contract for $11 million with the Rangers on Jan. 5. The contract also has a club option for $12 million in 2014.
"I think it's a balancing act," Berkman said. "I think every player comes to this point at some point in their career, to where you're just mentally, like you still feel like you did when you were 25, but it's hard to believe that physically you're not that same person. And the more time you spend away from the game, like being on the DL, you're like, 'oh, that's easy, I can do that, I remember when I could do that,' ... your brain tells you yeah, but then when you actually go out there and try to do it, it's a different story.
"I have got to come to grips with what my true physical capabilities are at this point and then make a decision based on that, and not based on an unrealistic expectation of performance."
T.R. Sullivan is a reporter for MLB.com. Read his blog, Postcards from Elysian Fields, and follow him on Twitter @Sullivan_Ranger. This story was not subject to the approval of Major League Baseball or its clubs.