Lewis to undergo hip surgery
Lewis to undergo hip surgery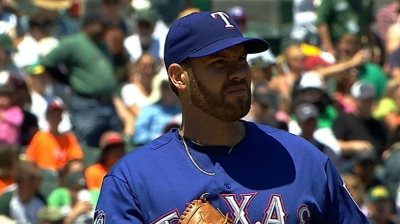 ARLINGTON -- Colby Lewis will undergo right hip resurfacing surgery next week in New York. The surgery is an alternative to hip replacement surgery, where the ball of the hip isn't replaced. Lewis had about five bone spurs in the hip, and the doctors told Lewis he wouldn't receive the range needed if they just cleaned the bone spurs.
"It's not a full reconstruction, but it's basically more dealt for active lifestyles," Lewis said. "This is the point that it's come to."
The procedure will be done by Dr. Ed Su, who told Lewis he should be ready to go in six months. Lewis said Su's patients can walk a mile seven days a week after the surgery.
"I really haven't talked to him [about] what that's going to entail, or where I'm going to be at, or how much exact pressure I'm going to be able to put on it in three or four months," Lewis said. "The first couple months is getting you up, getting you moving and walking around. The 1-3 month period is where you develop a lot of your strength back, and the bone is adhering to the replacement and go from there."
Lewis expects to get on a mound in four months and begin normal activities. He will be a free agent at the end of the season.
"I knew I was going to have it replaced at some point in my life," Lewis said of his hip. "Right now, I wasn't really hoping on it, but it's something to give me my best opportunity to come back and be pain free. Now that I've made the decision, it's something I'm looking forward to being pain free."
Master Tesfatsion is an associate reporter for MLB.com. This story was not subject to the approval of Major League Baseball or its clubs.