Martin departs in ninth after outfield collision
Martin departs in ninth after outfield collision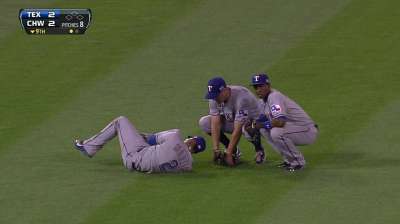 CHICAGO -- Rangers center fielder Leonys Martin exited Saturday's game in the ninth inning with a sprained right ankle after colliding with left fielder David Murphy in the Rangers' 3-2 loss to the White Sox.
Precautionary X-rays were negative following the game.
"We'll know more [Sunday]," Rangers manager Ron Washington said. "It wasn't too serious, hopefully, because he tried to walk on it and it felt sort of good. He was going to try to stay out there, but we weren't going to let that happen."
Martin and Murphy ran into one another when White Sox first baseman Paul Konerko hit a soft fly ball to left-center. Murphy ended up catching the ball and, while he was doing so, Martin tried to sidestep out of the way and appeared to twist his ankle while falling to the ground.
He was helped off the field by trainers, though had to momentarily pause midway through the trek back to the dugout.
"It looked like it was hit perfectly in between us and, if he calls the ball, then he has priority and I'm supposed to back off and let him have it," Murphy said. "But it was such a late-developing play that by the time I heard him call it, the ball was probably close to in my glove.
"I feel if I pull away from it then, it might be one of those plays where the ball doesn't end up finding anybody's glove and you don't make an out. So I felt like at that point I just had to stay with it."
With Martin leaving the game, right fielder Alex Rios moved to center, while first baseman Mitch Moreland shifted to right field. Adam Rosales replaced Moreland at first.
Cash Kruth is a reporter for MLB.com. Follow him on Twitter at @cashkruth. This story was not subject to the approval of Major League Baseball or its clubs.