Washington fine with Kinsler bunting ahead of Beltre
Washington fine with Kinsler bunting ahead of Beltre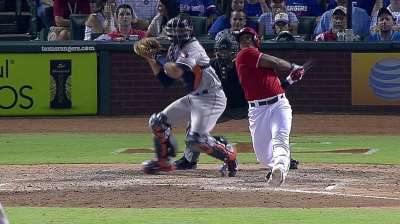 SEATTLE -- Manager Ron Washington said he's not going to stop Ian Kinsler from trying to bunt for a base hit, even if it leaves the Rangers in a situation where the opponent intentionally walks Adrian Beltre.
"That's part of his game," Washington said. "He's going to play his game. He can't think about Beltre batting behind him, and he's got to swing the bat. If Kinsler sees the bunt available, he's going to take it."
Twice in a stretch of seven games, Kinsler has tried to bunt with runners on first and second and nobody out. Both times he was thrown out while moving the runners to second and third. Both times Beltre was intentionally walked. Kinsler did it in the third inning on Aug. 19 against the Astros, and the Rangers scored 11 runs in a 16-5 win. He did it again in the first inning on Monday, and Alex Rios delivered a two-out, two-run single in an 8-3 victory.
"I'd rather have bases loaded with one out rather than Kinsler hitting into a double play," Washington said. "He just didn't get the bunt out there far enough. Another foot and it's a hit."
Beltre has been intentionally walked 10 times this season, fifth-most in the American League and two more than last year. Josh Hamilton had 13 in each of the past two seasons with Beltre hitting behind him. Now A.J. Pierzynski is hitting behind Beltre. The Mariners also walked Beltre in the seventh inning on Monday and Pierzynski hit a three-run home run.
"I was A.J. last year," Beltre said. "They didn't want to pitch to Hamilton. I loved that. I wasn't mad they pitched to me. I was glad. ... I want them to pitch to me. I want to be in that situation. We're trying to win ballgames. It doesn't matter how we do it.
"It's working, so there is no reason to change."
T.R. Sullivan is a reporter for MLB.com. Read his blog, Postcards from Elysian Fields, and follow him on Twitter @Sullivan_Ranger. This story was not subject to the approval of Major League Baseball or its clubs.