Andrus leaves game in first with back tightness
Andrus leaves game in first with back tightness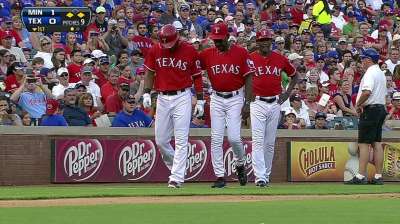 ARLINGTON -- ­­ Elvis Andrus left Saturday's game against the Twins with tightness in his lower back after running the bases in the first inning. Rangers manager Ron Washington said he'll give the shortstop the day off Sunday in hopes that he can return Monday against the A's.
After getting on base with a single, Andrus rounded to third on a base hit from Ian Kinsler and slowed down halfway to the bag coming from first. Adam Rosales pinch ran for Andrus on third and scored on Adrian Beltre's sacrifice fly.
"Before I hit second base, I felt it and everything just got worse when I was going to third base," Andrus said. "It happened to me before, so it's nothing new."
Andrus has played through back spasms for most of the season, and he said it usually occurs in his upper back. The latest instance was in his lower back, which was wrapped up after the game.
"I want to get on the field sooner rather than later, but I want to be, not sure about 100 percent, but at least 80 percent," Andrus said. "I don't want to go out there and have it not feel well, and then try to hustle and do something worse. If I need extra days, I'll take it. As soon as I feel good, I'll be in the field."
Master Tesfatsion is an associate reporter for MLB.com. This story was not subject to the approval of Major League Baseball or its clubs.