No hard feelings from Beltre after being plunked
No hard feelings from Beltre after being plunked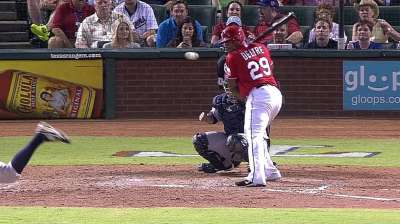 ARLINGTON -- Adrian Beltre did everything Tuesday from hitting the game-winning home run, to causing his teammates to fall asleep and even staring down a pitcher in the 3-2 win over the Astros at Rangers Ballpark.
Tied at 2, Beltre gave Texas the lead with a solo home run to left field off Brad Peacock in the sixth. It was his first homer since Aug. 28 against the Mariners. The nearly month-long home run drought caused his teammates to pass out as he rounded the bases and returned to the dugout.
"The guys fell out and went to sleep," Rangers manager Ron Washington said. "I was the only one that greeted him."
"It's true, I can't blame them," Beltre said. "It's been a long time, but hopefully that'll be the beginning of a couple this week. Not because I hit a homer, but because it was a good spot to hit it to give our ballclub the lead and that's what I want."
The Rangers are 24-3 when Beltre hits a home run and he finished 1-for-2 with a walk and a hit by pitch in the eighth on an 0-2 pitch from Josh Zeid that bothered the third baseman. He was hit around the left side of his back on a pitch that tailed inside with two outs.
Beltre flipped his bat and stared right at Zeid. He walked around before slowly taking his base, but he continued to glance at Zeid.
"You could feel him staring at you," Zeid said. "I know I've got 35 guys in the dugout who would help me if anything were to happen. He's been around the game for a while, and I would hope to think that he knows it wasn't on purpose. We're just trying to be aggressive inside."
Beltre wasn't sure if Zeid hit him intentionally, which led to the dramatic moment. Beltre said Zeid took a while to select his pitch and thought the reliever was upset he kept stepping out of the batter's box as a result.
"I don't have any problem with him and he doesn't have a reason to hit me," Beltre said. "I don't think he meant to hit me on purpose at first, but at the second, that's what I thought. It's no biggie, no big deal. I don't think he was trying to hit me. Maybe I overreacted a little bit."
T.R. Sullivan is a reporter for MLB.com. Read his blog, Postcards from Elysian Fields, and follow him on Twitter @Sullivan_Ranger. Master Tesfatsion is an associate reporter for MLB.com. This story was not subject to the approval of Major League Baseball or its clubs.