Rangers know what to expect from rivals in final set
Rangers know what to expect from rivals in final set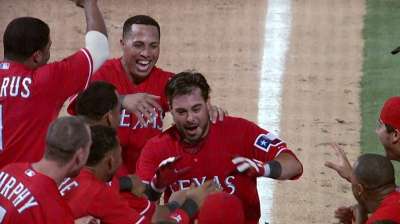 ARLINGTON -- The Angels aren't in the playoff hunt this season, but there's no expectation from the Rangers that the final regular-season series will be easy. Los Angeles has won its last five series and holds a 16-9 record in September.
"It's going to be tough, they have a great team," Elvis Andrus said. "They've always been a challenge for us every time we face them. We've swept them before, and that's what I hope for this series."
The Rangers swept the Angels the last time the two teams played at Rangers Ballpark on three consecutive walk-off home runs on July 29-31, and then won Thursday night on Jurickson Profar's walk-off shot. To win all four games in that manner this week would be highly unlikely, but the Rangers know a loss to the Angels would damage any thoughts of a postseason game. They expect the Angels to play spoilers as they seek their fourth consecutive October bid.
"They're all professionals, and they're all baseball players," A.J. Pierzynski said. "It doesn't matter who you play. I think people look at the schedule and think, 'Oh they're playing this team or that team.' At the end of the day, these guys are all prideful people. There's good players on every team, and any day a pitcher can go out and beat you. It's just about doing what we can do, and that's it."
Master Tesfatsion is an associate reporter for MLB.com. This story was not subject to the approval of Major League Baseball or its clubs.