Washington confident Jays, Twins will compete
Washington confident Jays, Twins will compete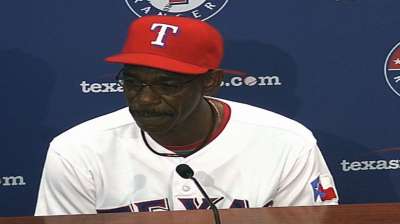 ARLINGTON -- The Rangers went into the weekend needing help from the Twins and the Blue Jays. Both teams have losing records and have been eliminated from the postseason, but the Twins still have three games with the Indians and the Blue Jays have three games with the Rays.
Texas enters Friday trailing the Indians by one game for the second American League Wild Card spot. Rangers manager Ron Washington said he is confident the Twins and Blue Jays will battle to the final out of the season.
"I can tell you with Ron Gardenhire as manager of the Minnesota Twins, that answers that question," Washington said. "With John Gibbons as manager of the Toronto Blue Jays, that answers that question. They are pros. That's just professionalism. That's all that is. You can't describe it any way else. No matter who you play or where you play, you want to win."
The Twins lost to the Indians, 6-5, on Thursday night. They scored four runs in the ninth but their rally came up short.
"We're playing a team in the pennant race here," Gardenhire said. "They're one game up. So there's going to be a lot of intensity coming from their dugout. Hopefully we can join in with it. There's a lot to play for because all of baseball is watching this series. I'm hoping our guys are going to want to get after it and play the game the right way and give these guys a run for their money and make them earn it."
The Blue Jays-Rays series begins tonight in Toronto.
"We want to finish good, we still have a say in what happens to Tampa over there, so we'd like to play a good series," Gibbons said. "That would bring some satisfaction to us. We've been playing pretty good baseball, we haven't been scoring a lot, it's a different offense, but guys are competing pretty good. Big hit here or there would make a difference."
T.R. Sullivan is a reporter for MLB.com. Read his blog, Postcards from Elysian Fields, and follow him on Twitter @Sullivan_Ranger. This story was not subject to the approval of Major League Baseball or its clubs.