In no rush, Daniels waiting on right deal
In no rush, Daniels waiting on right deal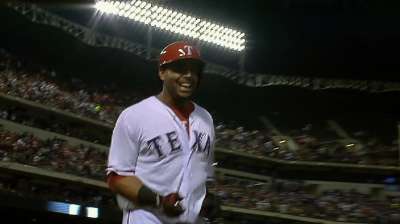 DALLAS -- General manager Jon Daniels said that nothing changed since last week's winter meetings, sounding his familiar refrain, "We like our team." But that the Rangers are open to adding to the roster and will act on the right deal if it comes along.
"We've talked about some everyday players, we've talked about some more complimentary players and we've talked about adding some depth to the pitching staff," Daniels said. "But we're not close on anything and don't have any pending offers or anything like that."
The two primary targets -- outfielders Shin-Soo Choo and Nelson Cruz -- still hold interest for the Rangers, but the price is still uncomfortably high on both. Daniels did say that the Rangers have remained in contact with Cruz and his agent, Adam Katz, but the Texas GM wouldn't comment on other clubs' players.
Todd Wills is a contributor to MLB.com. This story was not subject to the approval of Major League Baseball or its clubs.