MLB.com Columnist
Anthony Castrovince
Choo's dedication pays off with Ruthian-sized deal
Choo's dedication pays off with Ruthian-sized deal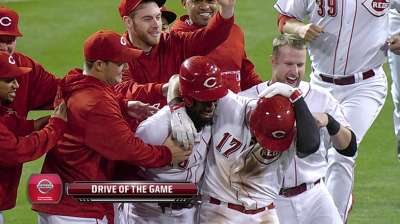 I once asked Shin-Soo Choo what he had learned about Major League Baseball's great players while growing up in South Korea.
The answer, in short, was nothing.
Nothing about Joe DiMaggio's hit streak or Jackie Robinson's barrier-breaking debut or Ted Williams' sweet swing or Willie Mays' over-the-shoulder catch. Nothing about Ty Cobb or Hank Aaron or Lou Gehrig.
He had heard a little bit about Babe Ruth, but only the most rudimentary details.
"He plays baseball, he drinks a lot, he smokes cigarettes, and he likes girls," Choo told me. "He does everything, but he still hits!"
To Choo, baseball was never a mere pastime aggrandized by folkloric tales of legends come and gone. Nor was it ever a recreational activity encountered under the auspice of Little League innocence.
No, to Choo, the game became, very early in his life, a professional path meant to be treated seriously and sacredly.
His high school was a baseball academy with a boot camp mentality. Every mistake or misstep was an invitation to punishment, sometimes of the physical variety. Every early-morning wakeup call or late-night lifting session was clouded by the threat -- the fear -- that if he didn't make it in