Perez tries to sustain last year's success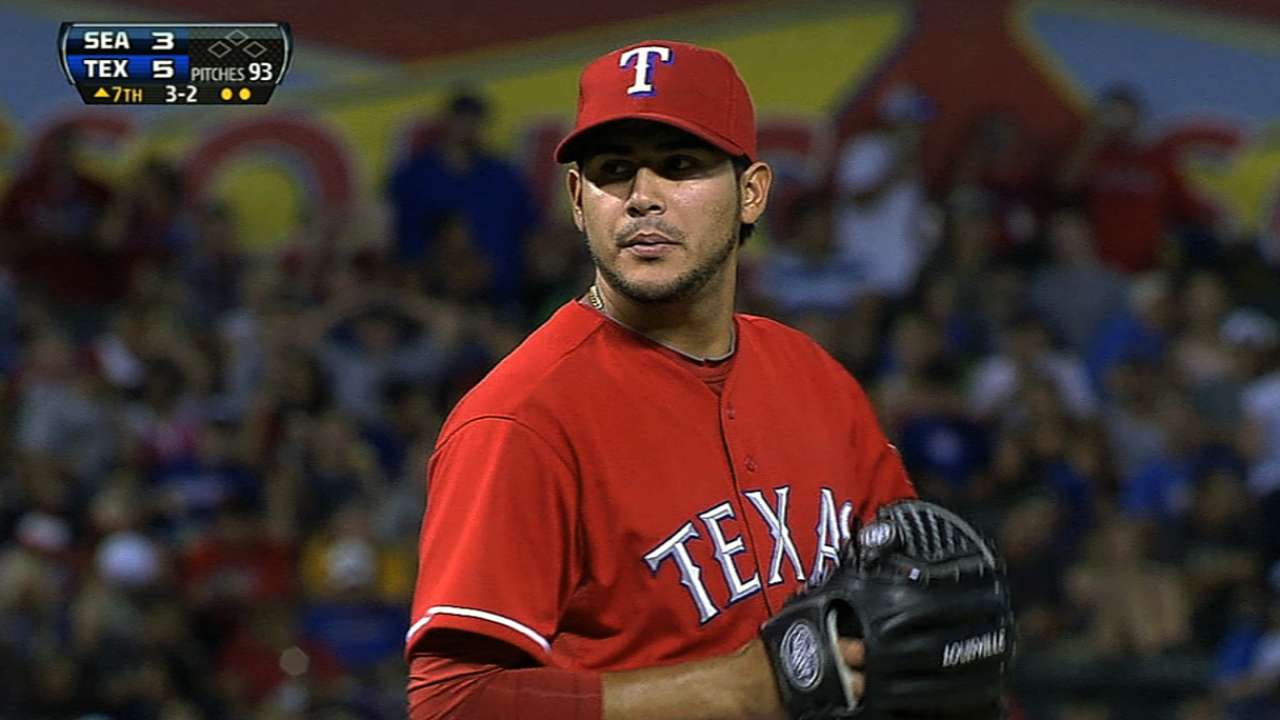 PHOENIX -- In 2013, left-hander Martin Perez made it clear exactly what he's capable of. He became one of the Rangers' biggest weapons down the stretch, and he got the nod in the club's one-game playoff loss to Tampa Bay.
Now, for the hard part: Sustaining that success.
Perez is still only 22 (he'll turn 23 on April 4), and he's far from the polished top-of-the-rotation product that the Rangers hope he'll become. The biggest key to achieving that status -- according to both Perez and the Rangers -- is just how hard he works.
"I know a little bit more of the league and the hitters, and I got more hungry," Perez said. "We want to go to the World Series. Thirty-two starts, that's my goal."
In his first outing of the spring, Perez tossed two innings, allowing one run on a pair of walks and a hit in a 2-2 tie against Oakland on Saturday.
Perhaps more important than the numbers, however, was Perez's implementation of a cutter that he spent time honing during the offseason. He threw it just twice on Saturday, saying he'll need to build more confidence before it becomes a legitimate piece of his arsenal.
"I just need to continue to throw it, trust it 100 percent," Perez said. "You need to practice when you're trying to do something new, so that's what I'm going to do now: Throw it and trust it more, and I think it will be ready for the season."
Perez made 20 starts in in 2013, going 10-6 with a 3.62 ERA and a 1.34 WHIP. He was slotted into the rotation last June 22 in St. Louis and didn't miss a start over the remainder of the season.
"What impressed me more than anything else was how he was able to work out of situations in real time," manager Ron Washington said.
Perez had to work out of trouble right away on Saturday when he found himself in a second-and-third, none-out jam with the heart of the A's order due up. He fanned Josh Reddick, before allowing a Yoenis Cespedes sac fly on the first of his two cutters. (The other was a ball to Nate Freiman an inning later.)
Washington said the toughest thing for a second-year pitcher to understand is not to take his initial success for granted.
"It's not only for a young pitcher the second year -- it's for everybody," Washington said. "You have to work just as hard as you did to accomplish what you accomplished the first time around, and the work is even harder the second time around because adjustments are being made. You have to adjust also."
Thus far Perez isn't showing any signs of letting up in his work ethic. He wasn't exactly sharp on Saturday -- who is in their first spring start? But he didn't leave any pitches over the middle of the plate either.
"I did a pretty good job," Perez said. "It was a long time that I didn't face hitters in a game, and the most important thing is that I threw the ball down."
AJ Cassavell is a reporter for MLB.com. Follow him on Twitter @ajcassavell. This story was not subject to the approval of Major League Baseball or its clubs.