Kirkman, Beltre struggle with spring spotlight on them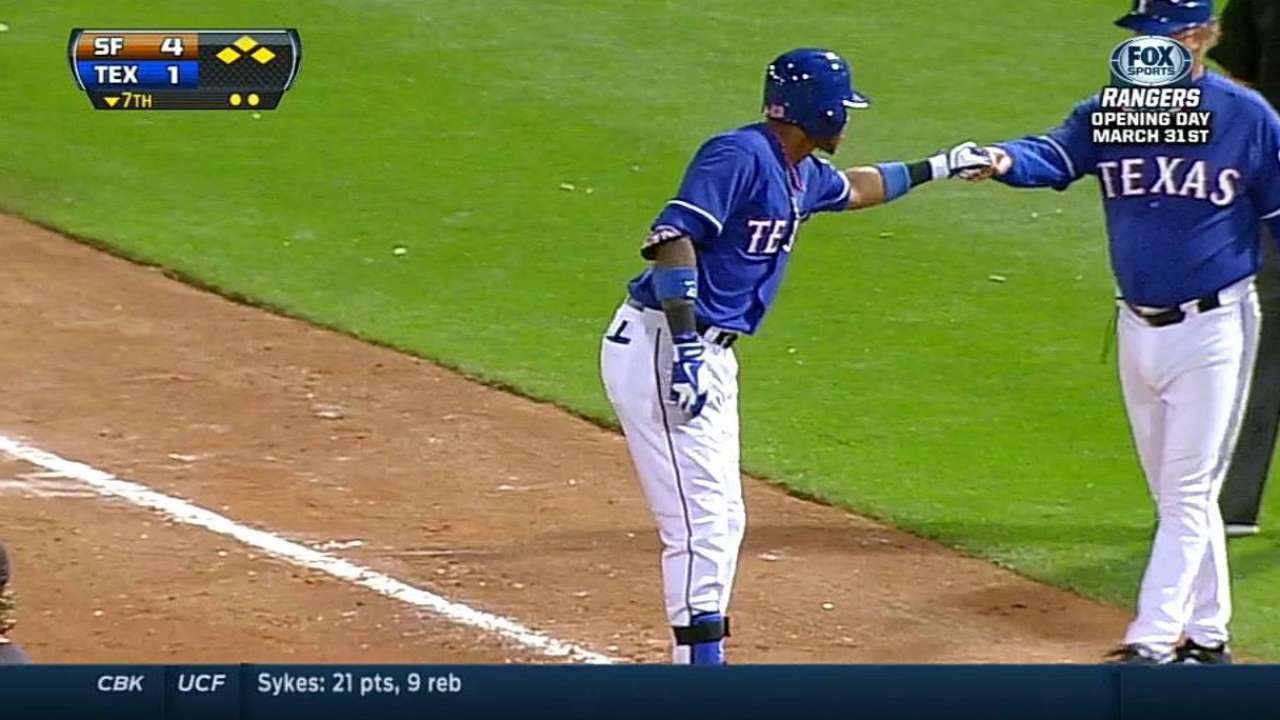 PHOENIX -- Two players out of options did not help their chances of breaking camp on the 25-man roster during the Rangers' 9-3 loss to the Brewers on Tuesday afternoon.
Left-hander Michael Kirkman walked four and gave up a grand slam home run to Mark Reynolds in one inning of work and outfielder Engel Beltre had two key mistakes, one on the bases and the other in the field. For either player, this was not a good time to have a game like that.
"No it's not, that's fair to say," Kirkman said.
Kirkman, taking over for Martin Perez in the sixth, was supposed to pitch 3-4 innings but only could get through one. He walked the bases loaded with one out before Reynolds took him deep. Kirkman said he couldn't get his sinker over the plate.
"They were around the strike zone but not in it," Kirkman said. "A couple got away but for the most part they were right there but not in it."
Kirkman was officially being considered for a spot in the rotation but the best he can hope for right now is long man in the bullpen. The Rangers have spent four years waiting patiently for Kirkman be good for an extended period but it hasn't happened. Dealing with skin cancer twice in the past two years has not helped.
Now he has to pitch his way onto this team and it hasn't happened.
"We haven't made any decisions," manager Ron Washington said. "I know he feels bad. He had 3-4 innings to give us and he had a rough first inning. We couldn't send him back out there."
Beltre reached on a one-out bunt single in the second and Leonys Martin followed with a single to right. Beltre started to try for third, but after rounding the base, decided otherwise. The throw to third was cut off by shortstop Jean Segura and Beltre was thrown out trying to scramble back to second. In the fifth inning, Beltre lost Reynolds' fly ball in the sun and it prolonged the inning for Perez. The Brewers ended up scoring five runs that inning.
"He lost a fly ball," Washington said. "That happens."
Michael Choice has clearly out-distanced Beltre for the fourth outfield spot. Washington said the Rangers aren't going to carry a player just because he is out of options.
"We're going to take the 25 best players," Washington said. "We're not worried about that. We'll do what we have to do."
T.R. Sullivan is a reporter for MLB.com. Read his blog, Postcards from Elysian Fields, and follow him on Twitter @Sullivan_Ranger. This story was not subject to the approval of Major League Baseball or its clubs.