Lewis, Ogando miss out on starting rotation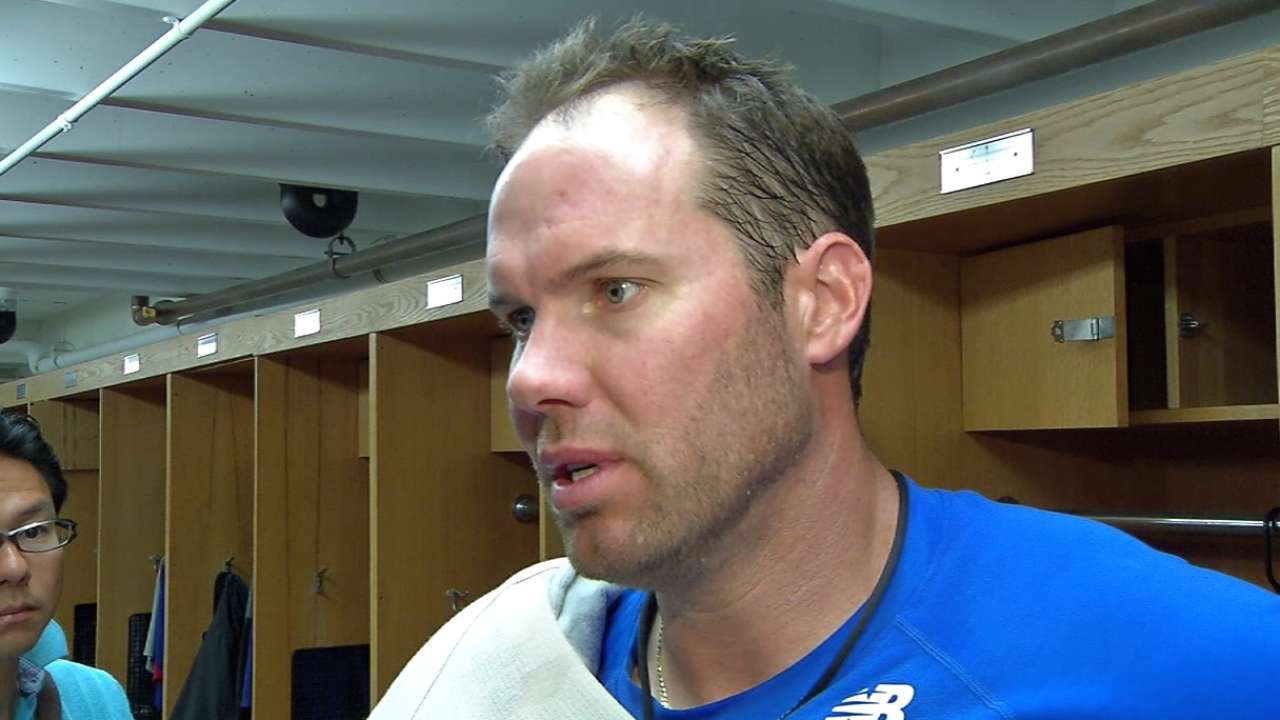 SURPRISE, Ariz. - Colby Lewis and Alexi Ogando wanted to be in the Rangers' rotation by Opening Day. They are not. Instead the Rangers are going with rookie Nick Martinez as their fifth starter and the two veterans don't appear thrilled with their current situation.
The Rangers want Lewis to pitch in at least one more Minor League game and build up his stamina. Lewis doesn't sound particularly excited about the prospect and still has the option of taking his free agency on April 10 if he is not added to the Major League roster by then.
Whatever Lewis is feeling, he's not talking about it.
"I'm healthy, that's all I got," Lewis said tersely after pitching five scoreless innings in the Rangers 5-3 victory over the Mariners on Wednesday afternoon.
Lewis has not pitched in the Majors since July 18, 2012. He had surgery on his right flexor tendon in 2012 and hip replacement last August. The Rangers are thrilled with what Lewis has shown so far and the progress he has made, but don't want to bring him back too quickly.
"Colby feels great and looks good," general manager Jon Daniels said. "We just want to make sure we are smart about it. So far there have been no issues and everything has been very positive. We want to make sure it stays that way."
The Rangers want Lewis to build up his pitch count. He threw 72 pitches on Wednesday afternoon, allowing four hits and a walk with three strikeouts. They would like for him to be up to 90 to 100 before joining the Major League rotation.
"He threw the ball well today," manager Ron Washington said. "He moved the ball around, got his fastball off the middle of the plate and was able to spot it. He did a good job."
Lewis' next step is to pitch in a Minor League exhibition game between Triple-A Round Rock and Double-A Frisco on Tuesday. After that, the Rangers will make a decision on what's next. Washington said Lewis is just missing stamina.
"Everything else is good," Washington said. "He just has to get his stamina back. He should be at 90 pitches his next time out."
The Rangers considered moving Ogando back into the rotation after Yu Darvish went down with stiffness in his neck. But they decided they were better off with Ogando in the bullpen and Martinez in the rotation temporarily.
"I'd like to start, but it's not my decision," Ogando said.
Martinez, an 18th-round draft pick in 2011, wasn't even on the big league roster and pitched just five games at Double-A Frisco last year after being promoted from Class A Myrtle Beach. But he was pitching well in Minor League camp and threw two scoreless innings against the Reds on Tuesday in Goodyear. On Wednesday he found out he was in the Major League rotation.
"It's a little surreal, I can't believe this is happening," Martinez said. "I was a little shocked at first. My family is going crazy back home. My dad is probably still crying back home."
T.R. Sullivan is a reporter for MLB.com Read his blog, Postcards from Elysian Fields and follow him on Twitter @Sullivan_Ranger. This story was not subject to the approval of Major League Baseball or its clubs.